This article explores the 2023 Kawasaki Z650, a smooth, reliable naked motorcycle that offers versatility and user-friendliness to the entire bike lover all around the world. Originally introduced in 2017, the Kawasaki Z650 is a standard or naked motorcycle. It is powered by a parallel twin engine with a displacement of 649cc and torque of 46 lb-ft. Both city and highway riders will enjoy the motorcycle's comfortable and upright riding position.
2023 Z650 Kawasaki Design
Rider comfort and relaxation were important factors when designing the Kawasaki Z650. Its riding position is both comfortable and relaxed, which makes it well suited to long rides.
Riders can enjoy the ride for longer periods thanks to the low slung seat and upright handlebars. A wide range of accessories is available for the Z650, such as a center stand and engine guards, as well as a variety of luggage options, making it easy to customize the bike.
2023 Z650 Kawasaki Engine
For riders of all skill levels, the Kawasaki Z650 offers a comfortable and accessible ride. Its 649cc liquid cooled, parallel twin engine delivers smooth, reliable performance while adopting a sleek and minimalist design.
Price of 2023 Z650 Kawasaki
If you are willing to spend close to 7 lacks (699057 to be exact), the Kawasaki Z650 is a great choice. A motorcycle that is easy to ride will attract rookie riders to the world of big bikes. Compared to other Kawasaki Ninja 450s, it is not comparable in terms of price. You can justify the price tag by analyzing the features this bike offers.
The Kawasaki Z650 bike is very good and should be considered when upgrading your bike to a bigger bike.
Color of 2023 Z650 Kawasaki
Metallic Matte Graphene Steel Gray with Ebony, Metallic Phantom Silver with Metallic Carbon Gray, and Metallic Spark Black with Metallic Flat Spark Black are the three colors available internationally for the 2023 Z650.
There is black paint for the alloy wheels in Metallic Matte Graphene Steel Gray with Ebony and Metallic Spark Black with Metallic Flat Spark Black. A red paint job is featured on the wheels in Metallic Phantom Silver with Metallic Carbon Gray. Each color features a different chassis paint color in the 2023 Kawasaki Z650.
Suspension of 2023 Z650 Kawasaki
Suspension duties are handled by a telescopic front fork and a mono-shock. The front of the vehicle is equipped with dual disc brakes, while the rear is equipped with a single rotor brake. Two level traction control and dual channel ABS are among the electronic rider aids.
2023 Kawasaki Z650 has been equipped with traction control with three levels, which can also be turned off. Due to the lack of an IMU, they are not lean sensitive. Mechanically and functionally, the motorcycles remain unchanged. There are a number of highlights of this bike, such as LED lighting, TFT screen with smart phone connectivity, and dual channels of ABS.
2023 Z650 Kawasaki Ergonomics
Despite being naked, the Z650 has an upright riding position which is still slightly forward. The handlebars are straight, the pegs are center-set, and the seat height of 790mm makes it very comfortable for the rider. 
Both seats are reasonably comfortable, and the bike comes with a previously used split seat setup. There is more room in the pillion seat now that it is bigger. Although the rider's seat appears too soft, you did not find it uncomfortable for long distance riding.
The Z650 comes with adjustable levers, a nice feature that allows you to tailor the bike to your preferences. Despite being decent, the mirrors vibrate at high a rev, which diminishes the view. There are not many complaints about the bike's ergonomics and design.
Performance of 2023 Z650 Kawasaki
The Kawasaki Z650 is a smooth and reliable ride with reliable performance. Despite its small size, the 649 cc engine provides ample power and torque, suitable for a wide range of riding conditions. Smooth gear changes are provided by a six speed transmission paired with the engine. Additionally, the Z650 features a slipper clutch that helps maintain stability and control during downshifts by reducing engine braking.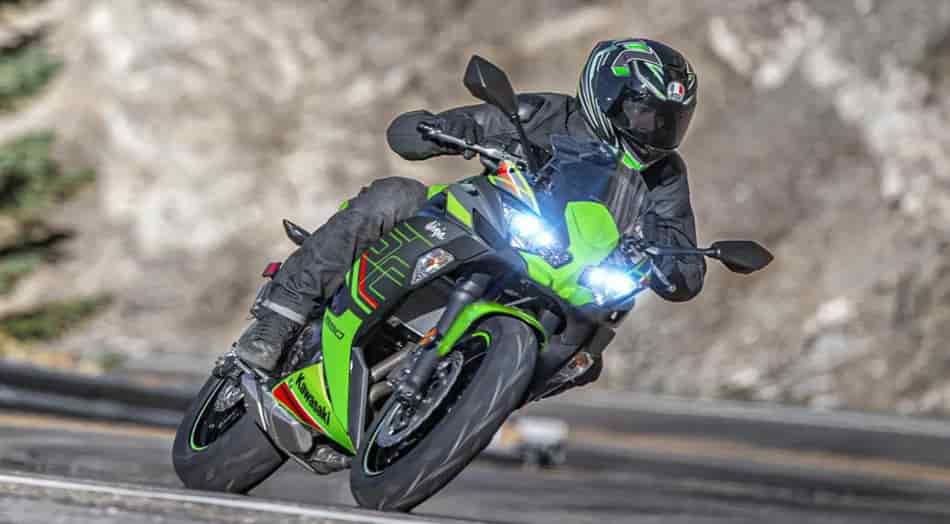 Instrument Cluster
It also includes advanced technology, which makes the 2023 Kawasaki Z650 stand out. Riders can view a 4.3 inch full color TFT display for speed, fuel level, and trip data, among other things. It has a clear and easy to read display, even in bright sunlight, and can be customized to meet the rider's needs. While riding, bikers can access phone and music controls via the display, which is also Bluetooth enabled.
2023 Z650 Kawasaki Switch Gear
Among the switchgear, it retains a very basic design, receiving only an additional hazard switch besides the other basic switches. As the switchgear comes into place, you would like to be able to control the information from the digital meter. While the buttons are handy, they are of great quality, as expected. In general, it's fantastic, but you would like to see call notifications added.
2023 Z650 Kawasaki User Friendliness
A wide range of riding conditions can be tackled with the Kawasaki Z650 thanks to its versatility and user friendliness. You will enjoy a smooth and enjoyable ride on the Z650 whether you are commuting to work, cruising on the highway, or enjoying a weekend ride.
Riders of all skill levels find this bike highly appealing because it is also extremely versatile, which means that it can be customized to meet the needs of the rider.
Chassis of 2023 Z650 Kawasaki
The chassis of the Z650 stands out as one of its strongest features. With a trellis frame, the bike offers precision handling and stability, making it a good choice for both city and highway riding. In addition, the bike's 41mm telescopic front and horizontal back suspension systems improve handling, making it a smooth and comfortable ride even on rough roads.
Bike Difference between 2023 Kawasaki Z650 and Ninja 650
Kawasaki Ninja 650 is the sportier, more advanced, feature packed motorcycle, whereas Z650 is the simplified, minimalist motorcycle. In my opinion, both of these bikes offer excellent riding experiences; however, whether you choose one over the other is largely about personal preference and needs.
Ninja 650 and Z650 are either standard or naked motorcycles produced by Kawasaki, but they differ greatly in certain aspects. As of 2023, the following are the main differences:
Engine: It is not clear whether the Ninja 650 delivers more power and torque than the Z650 because they both have a 649cc parallel twin engine.
Brakes: There is no difference in the brake setup between the two bikes, but the Ninja 650 comes equipped with ABS, which adds an extra layer of safety.
Design: The Ninja 650 has a sportier and more aggressive appearance, with fairings and a windscreen, while the Z650 has a more minimalist and stripped-down appearance.
Suspension: In the Ninja 650, a Uni-Trak top link system with adjustable preload is included, along with 41mm fork tubes. Z650's suspension setup is sleeker than its predecessor: A 41mm fork at the front and an adjustable horizontal back link at the rear.
Other Features: With its TFT display, LED lighting, and slipper clutch, the Ninja 650 offers a range of additional features that enhance the riding experience. A simpler, more basic setup is featured on the Z650.
Wrapping it Up
Designed for riders of all skill levels, the 2022 Kawasaki Z650 offers a comfortable, enjoyable ride. The Z650 is a versatile bike that is well suited to a wide range of riding circumstances thanks to its smooth power delivery, agile handling, and advanced technology. No matter what level of rider you are, the Z650 is a great choice if you are looking for a convenient and fun bike.
The Kawasaki Z650 has attracted riders looking for an affordable and versatile motorcycle since it was introduced a few years ago. Reviews have been positive, and it has been praised for its balance of performance, comfort, and affordability. With the Z650, Kawasaki continues to produce high-quality, reliable motorcycles that are popular among riders today.