Do you ever hear about Brad Pitt Motorcycle collection? Brad Pitt is one of the most famous actors in Hollywood with his outstanding career. Brad Pitt has a vast collection of motorcycles. Brad Pitt's motorcycle collection is his hobby. He collects all types of the bike starts from custom V twin motorcycle to racing bike. Some old monster bikes also exist in his collection.
Brad Pitt Motorcycle Collection
Brad Pitt thinks that the bikes give him anonymity. Because as a celebrity, when he goes to a public place, he faced a lot of trouble from his fans and follower for photo ops. Sometimes Brad feels irritated for his fans. That's why he defilades with a helmet on the bike and hide from his audiences in a public area.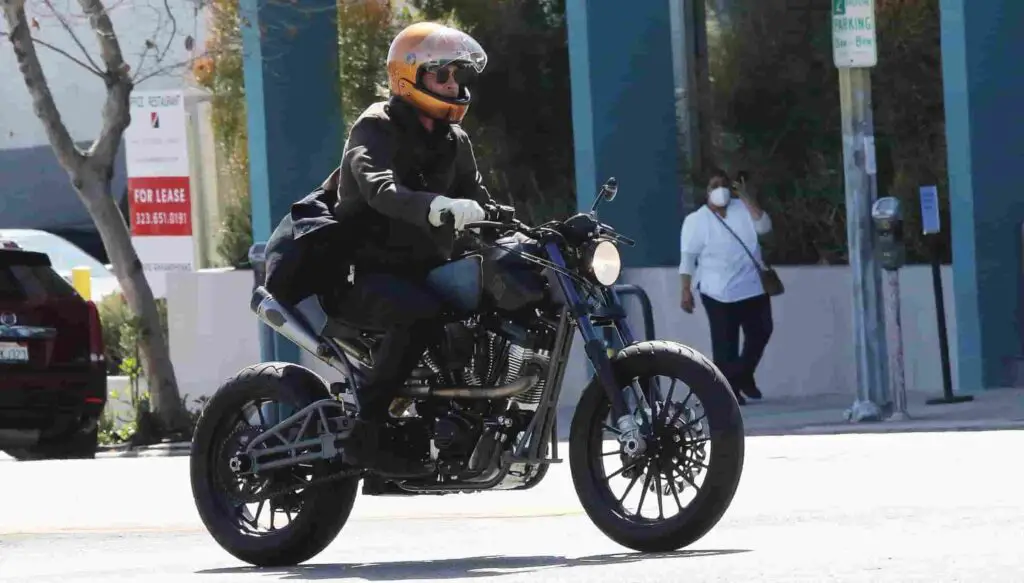 Some amazing collection of Brad Pit are Ducati, Yamaha, Husqvarna Nuda 900, MV Agusta Brutale, Jesse Rooke built, Indian larry bike, Type 9 Zero Engineering bike, WCC 140 CFL bike, and Ecosse Titanium Series XX bike are the top collection on his collection list. Here, we select some monster and top-notched motorcycles from his collection.
Read More: Top Celebrity Who Ride Motorcycles
Untold Collection of Brad Pitt Motorcycle or Bikes
We have captured top 10 motorcycles used by the most famous Hollywood actor Brad Pitt. Let's explore in details:
1. Ducati Monster 696
Brad Pitt has a bunch collection of Ducati bikes. Ducati 696 is one of them, which is a Mostar bike in the market. Monster 696 is a high street fighter bike. Brad Pitt uses 696 for several times to hide him from his fans.
696 cc engine with euro 3 emission and 6-speed gearbox offer you a Monster. Because of the look, performance, and configuration, Brad placed 696 in his collection list. Ducati 696 launched 2008 in the market. Heights bike speed of monster 696 is 210 km/h. Marelli electronic ignition system used here.
80 HP power and 10:6:1 compression ratio helps to get extra speed while driving. Carbon fuel tank protector used here to supply pure carbon and fuel.
2. Ducati Monster S4R
Ducati Moster S4R is also a series of Ducati, which also includes in the collection list of Brad Pitt. Ducati launched S4R Moster in 2003. Unique look and specification focused Brad Pitt to buy Monster S4R. Mainly, Brad looking for a unique motorbike in the market for his collection, and S4R is one of them.
996cc engine and 11:6:1 compression ratio with 235.5 km/h top speed make S4R a Moster in the rode. Besides, Analog Capacitive discharge system, six-speed transmission, LED water temperature, water radiator, lateral cover in carbon fiber, and LED clock is the distinctive feature of Moster S4R.
3. Ducati Desmosedici RR
Ducati Desmosedici RR is the world-famous MotoGP racing bike, that is also in Brad Pitt's motorcycle collection. Desmosedici is the street-legal release of Ducati for the racer. Ducati Desmosedici is the most expensive Motorbike, and a very handful person has the selection, and Brad Pitt is one of them.
Liquid-cooled 4 stroke engine with 989cc and 6-speed transmission make Desmosedici best in the racing market. 13:5:1 compression ratio and 15L fuel capacity can add extra mileage. 188.2 mph top speed can add extra gear for your racing. Magnetti Marelli EFI ignition system used to provide perfect speed at an ideal time.
Unique look, color combination, top-notched aspects, and speed of Desmosedici RR placed on the top list of Brand Pitt choice list.
4. Husqvarna Nuda 900 R
Husqvarna Nuda 900 R is one of the most expensive and unique designed bikes which captured Brad Pitt's attention to buy. Brad Pitt is the person who got the chance to drive Nuda 900 R before launched on the market. 900 R, praised by motorist journalists all over the world for design and performance.
In 2012, BMW developers exhibited Nuda 900 R. 900cc engine with 13 Liter fuel capacity added extra mileage. 13:0:1 compression ratio and 57HP capability provide additional strength. Four-Stroke and four valved engines help to produce a maximum of 124mph speed on the road. Husqvarna Nuda launched another version in 2013 with some other features. But Brad Pitt has the 2012 edition in his collection.
5. Yamaha R1
Yamaha R1 first launched in 1998 and drew the attention of Brad Pitt. He bought the R1 for his personal use, and in 2006 People saw Brad Pitt on the road of Vietnam with his wife, Angelina Jolie, with Yamaha R1. Yamaha R1 was one of the most favorite bikes for his daily use.
When R1 released on the market, people bother to buy for the look and performance. R1 can use as a racing bike and also for daily use. 998cc engine with 16 valves and 13:0:1 compression ratio can add extra speed for both regular use and racing. R1 has a unique fuel injection system of YCC-T and YCC-I. Digital superbike technology, titanium exhaust system, Refined Rocker-Arm Valvetrain placed R1 on the top of the list of a biker's choice.
6. BMW R1150GS
BMW R1150GS is known as an adventure bike. Brad Pitt added R1150GS in his collection for his adventure. The unique design, build quality, strength, and structure designed for riding on the rocky and mountain area. Because of the powerful engine and design, BMW R1150GS become the actors' first choice, and Brad Pitt is one of them.
The powerful 74HP with a 1130cc air-oil cooled Engine can produce extra speed. The sizeable 5.5-gallon fuel tank can alive GS for more ways. Electron fuel injection with four valved per cylinder and shart drive can provide a maximum 130mph speed on the road. A rider can use BMW GS both on the track and road.
7. Indian Larry
Indian Larry bike producing company whos are building bikes from scratch. The most wealthy persons in the world can afford Indian Larry because of the costly rate, and Brad Pitt is the lucky person who has the collection of Indian Larry. You can not match Larry with any other bike in the market.
Indian Larry founded by Lawrence DeSmedt, who was an artist. All the motorcycles produced from custom design. Whole-body of the bike painted with numerous tattoo. They also named the bikes with various names like When Push Comes to Shove, Sweet Marissa. Brad Pitt used When Push Comes to Shove Model.
The model launched on the market in 2006 built by Legacy Bikes. The engine is 93 ci STS Gen Shovelhead. Body painted by Spritz by Fritz, Espresso / Gunmetal w/Platinum.
8. Zero Engineering Type9
Zero Engineering Type 9 is one of the most uniquely designed bikes in the world. Brad Pitt has a compilation of Type 9. The length of Type 9 is 2425mm, and the height is 935mm. Zero Engineering founded by Shinya Kimura. Type 9 designed for Japan, Europe, and the USA with some distinctive aspects for different countries.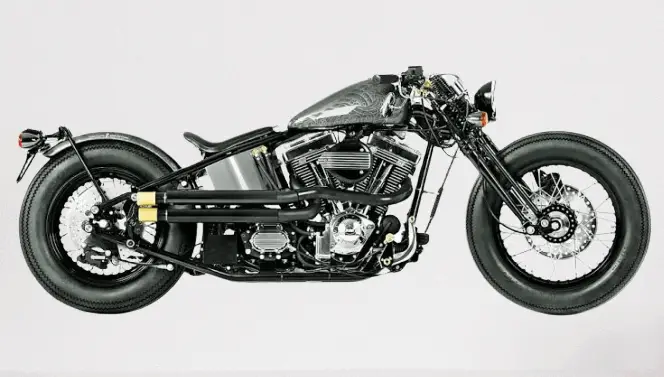 Multi linked rare suspension is the most exciting feature of Type 9 motorcycle. Engine type of type 9 is four valved with Air-cooled V-Twin OHV. 1570cc (US Edition) with a carburetor fuel system can add extra power while driving. Type 9 seat capacity is for only one person.
9. Ecosse Titanium Series XX
Ecosse Titanium Series XX is known as the world's most expensive motorcycle. A very handly person in the world can afford XX, and Brad Pitt is one of them. Brad Pitt bought Ecosse Series XX 2013, and the price was approximately $300,000. People saw Brad Pitt riding Series XX in the Los Angeles area several times.
2100cc with 210HP engine can offer extra speed on the road. A team of specialized Engineers takes 1280 hours to build Series XX. The mainframe of the body made with Carbon Titanium, Fiber, Inconel, and Aerospace Grade Aluminum. Color of the bike select according to the choice of the consumer. The fuel capacity of Series XX is 3.78541 Liter.
10. Royal Enfield Bullet 500
Royal Enfield Bullet 550 is an old model bike designed in 1950 and no update on the design till now. Bullet 550 was in the garage of Brad Pitt. Brad Pitt bought 550 for the old model, and he purchased the motorcycle for his regular use. Though they didn't update design, they replace the carburetor with electronic fuel injection.
499cc with two valves per cylinder can provide extra speed on the road. Enfield 550 made for day to day life use. Fuel tank capacity is 13.5 Liter with a reserved tank of 2.5 Liter for emergency use. 2250 rpm maximum power with five gear provides smooth driving on the road. Here, you find the traditional disk break.
Conclusion
Brad Pitt has an extensive collection in his garage that cannot describe in a single content. Here, we try to find out the most popular selection of Brad Pitt Motorcycle. Collecting numerous, uniquely designed motorcycle is his passion. Brad Pitt uses different Motorbike at different times in different places. He likes to hide from his fans and audiences in public places by riding on the bike with a helmet.
Brad Pitt always searching for a distinctive featured motorbike for his collection and also inspired his son to use a motorbike. Brad Pitt gifted his own Suzuki DR-Z 125 motorcycle to his son Maddox on his 11th birthday. Brad Pitt and his wife Angelina Jolie went out with a motorbike for several times. Brad collected cheap Royal Enfield Bullet 550 and expensive Ecosse Titanium Series XX. He didn't think about the price; his concern was with the design and performance.