This article is all about the upcoming KTM technology-involved bike named the 800 Adventura of CFMoto. Every detail is mentioned in this article. With its 800cc superbike featuring adventure bike style and KTM components, including the 799cc liquid-cooled LC8c parallel twin from the Austrian manufacturer, the Chinese company has finally released the CFMoto 800 Adventura.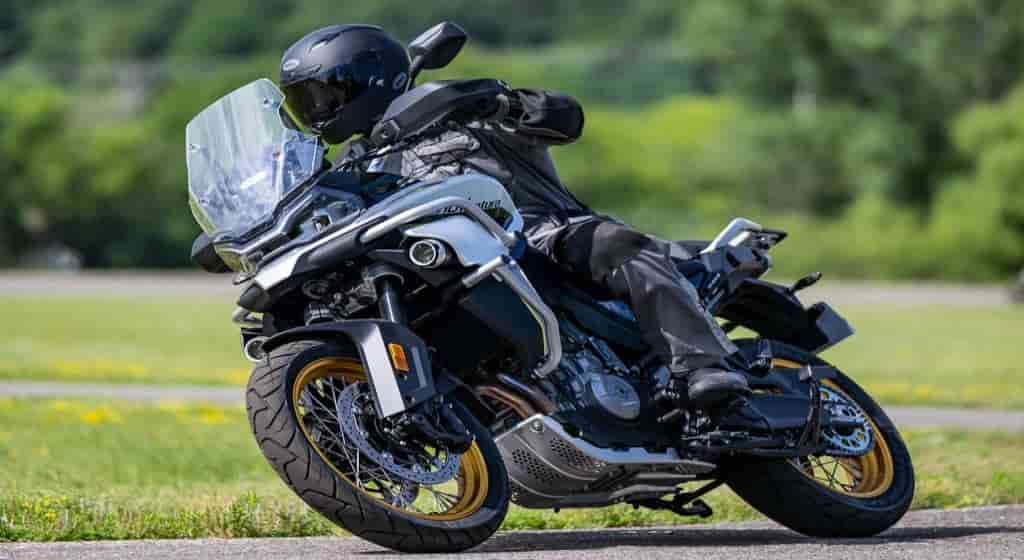 At the beginning of the 2023 model year, 800 Adventura Street, also known as the Adventura Terrain, will hit American showrooms. In the near future, these vehicles will be available from CFMoto as per the officials. This name change was necessary for North America to avoid infringing on Yamaha's MT naked sports series.
Being a Chinese product it is not to be underestimated because it has some features that could be useful and valuable in many cases. This bike is also supposed to be installed with KTM signature parts making it an even more attractive deal.
About the CFMoto
CFMOTO might be a new or completely unknown brand to some, but this Chinese producer of power sports products has been successfully selling ATVs and UTVs in the U.S. since 2002. The company is known to have a long-time collaboration with the Austrian brand, KTM.
It is a Chinese motorcycle brand but also cannot be underestimated based on its origin because of its craftsmanship, skilled employees, and also the involvement of the KTM brand the brand has successfully impressed motorcycle enthusiasts.
Even they have finally revealed their upcoming CFMoto 800 Adventura bike model with a massively powerful engine.
About the CFMoto 800 Adventura
CFMoto and KTM have been developing models with similar DNA for many years, but their 800 Adventura models are the first tangible result of their joint venture.
The new bike, however, is also very different from a KTM. KTM switched to its current 890cc motor for its North American Adventure series in 2021, just as it purposefully transferred the engine.
Despite using a steel tube frame, the Adventura uses an aluminum swing arm system that is distinctive.
The quality appears to be quite good.
Even for short people, the 32.5-inch seat height isn't awful considering the lengthy list of amenities and affordable price.
Cons
Maybe a bit heavy.
The luggage area seems to be a bit small.
Design & Features of CFMoto 800 Adventura
CF Moto is leading the way when it comes to Chinese bikes with this new-for-2022 800MT the latest example.
MT raises the bar by using a modern and efficient parallel twin engine instead of the antiquated Kawasaki ER6 parallel twin engine used in the CLX roadsters in 2021. The KTM 790 Adventure is the same tubular steel chassis that KTM no longer uses, plus smart, all-new styling and a wide range of features, including
A TFT dash,
Riding modes,
Adjustable screen,
Small luggage carriage.
Best of all, it is incredibly versatile, well- proportioned, and effective, and it is available in two different models, the Sport as well as this wire-wheeled and luggage-equipped touring model.  Some of the highlighted features are mentioned below:-
CFMoto 800 Adventura Display
The front panel features a seven-inch TFT display that connects to Bluetooth and displays a welcome message. Your Terrain's left switchgear contains the cruise control button, the mode selection button, as well as controls for the heated grip and seat.
The windscreen may also be adjusted, and everything is fastened to the ends of a beautiful, tapered aluminum handlebar with changeable risers.
Riding comfort
The 800 Adventura is based on the KTM 790 Adventure but feels larger and more substantial in comparison to its Austrian cousin.
As an adventure bikes leviathan such as BMW's Adventure and KTM's Adventure, the plot feels like a credible, manageable, versatile full-size adventure without the excessive and intimidating bulk, but is also more convincing and purposeful as a two-up tourer than smaller ones.
Consequently, the riding position on this Adventura is upright, with a comfortable gait to the wide bars, and it should be comfortable all day, as well as the screen which is decent and adjustable, although it can't be adjusted on the move due to the twin knob mechanism.
Handling
Aside from handling well and convincingly, the 800 Adventura has front- and rear-suspension components from KYB, a Japanese company that's widely used in the automotive industry.
At the front are 43mm inverted forks that can be fully adjusted, and the back has a mono-shock that can be adjusted as well. Wire wheels on alloy rims are mounted on semi-knobbly tires, but they are a bargain brand historically.
Regardless of the lack of a braking system, the CF Moto's ride is still comfortable and ample, offering a wide range of adjustability. Additionally, it has light, responsive, and precise handling, and delivers comfortable long-distance touring for two.
Dependability
CF Moto should be commended for using a tried and tested KTM 790, although this should come with the caution that KTM's reliability record is also not great.
Moreover, the quality of components and construction are improving, but neither is at the level of the most recent models from Honda or Kawasaki.
A small caveat to our assessment is that the 800 MT is a brand-new, untested model, so we have to temper our assessment accordingly. It is not necessary to seriously doubt the reliability of this system unless there is a specific, compelling reason for doing so. 
Weight
It is definitely noticeable that when the bike is lifted off the factory-equipped center stands, it can be found that it weighs 225kg, and since the fuel tank is situated quite high on the bike, you can definitely feel its weight as you wheel it out of the garage.
If you twist the throttle to the point where you are seated comfortably in the 825 mm-high seats, all of this becomes largely a thing of the past.
Other features
Furthermore, the extravagant package comes along with impressive standard specifications, including a TFT display, an adjustable windshield, two riding modes, a USB charging station, and more.
KTM's version of the MT's sister, the KTM SP, comes with a 7-inch color dash that is comprehensive and easy to see. The vehicle also boasts a cruise control system with a fast shifter, ABS cornering, and other electrical conveniences.
Power and Performance of CFMoto 800 Adventura
The new CF Moto 800 Touring and Sport has a similar engine to that found in the KTM 890 Adventure and 890 Duke, namely a liquid-cooled, DOHC, 799cc parallel-twin engine that produces 95bhp, and it can also be found in the Austrian off-road experts' 790 Adventure model.
When the revs are low, the delivery is grunty and tractable, but as they are raised and the quick-shifter switches gears, it smoothed out and offered a nice turn of speed, and through the exhaust, there was a pleasing bark from the exhaust system.
As far as a mid-adventure bike is concerned, 95 horsepower is more than enough, and the only problems were occasional shaky circumstances.
When reluctant to fuel when the engine was running at extremely low rpm, such as when pulling away, sometimes a clumsy or shaky shifter change can also be noticed. 
Braking system
Despite the fact that the brakes are twin discs gripped by radially mounted J-Juan calipers and are assisted by ABS, we did not find them particularly problematic, although they did not inspire the same level of confidence as those made by slightly more expensive bike manufacturers. 
Price and Launch
Two models of the new CF Moto 800MT are available: the $12,818.69 Sport with street-oriented tires and the $13,681.57 Touring. Here we focus on the Sport, as in the photos. The bike is supposed to be launched in the year 2023.