Finding a proper motorcycle helmet size that fits correctly is very important to achieve the dual missions of comfort and safety. It is pretty amazing when you devote enough time to finding the right helmet that it almost disappears when you wear it and yet sits right where it should if something goes wrong.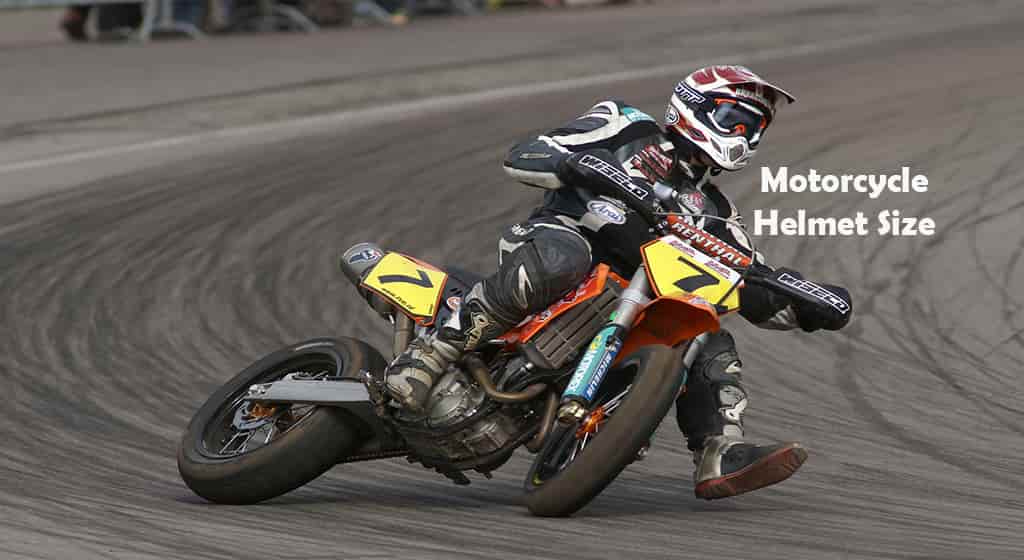 You can ride with the exact size of a motorcycle helmet for a safe & sound ride for many more years. To sum it up, the best helmet is the one that fits, is comfortable, and allows you to ride without restricting your movements or incapacitating you from using your motorcycle safely.
How to size for a motorcycle helmet? Guide
You should use the size guide on the individual product page to ensure that your dirt bike helmet fits comfortably and securely, regardless of the brand. As well as safety ratings, you will find detailed information for dirt bike helmets to ensure your head is protected as much as possible.
01. Sizing
The best way to measure motorcycle helmet size is to look for a good fitting hat. It is the way the helmet fits over the rider's head that makes the difference. You will need a seamstress's or tailor's tape measure for this. In addition to being flexible, it is also marked in useful increments for accurate sizing.
02. Measurement
With the measuring tape, measure the fullest part of the head. For most people, this is just above the ears & a half inch above the eyebrows, so measure at the forehead. Having a friend help you with this step will give you the most accurate measure.
Measure the size of the desired helmet and compare the measurements with the size chart on the website. The motorcycle helmet size produced by each manufacturer will be specific to its models.
03. Shape
Fitting your helmet correctly starts with considering the helmet shape before you determine its size. Proper fit for a motorcycle helmet is determined by the shape of the rider's head.
There are a number of helmet manufacturers who design their lids to fit a particular shape of the head. The shapes of these are often categorized under three primary headings like long, intermediate, and round oval.
It is easier to select the right motorcycle helmet after determining the rider's head shape from the enormous selection available. Choosing the correct motorcycle helmet size is the next step.
Long Oval
A head shape that is longer front to back than it is side to side is shaped for this helmet style.
Intermediate Oval
The shape is tailored to fit heads that are slightly longer front to back than they are side to side. It is the most common head shape, so the majority of motorcycle helmets fall into this category; if the helmet does not specify its shape, then it is usually this.
Round Oval
This headband is designed to fit a head with nearly identical measurements from front to back and from side to side.
04. Fitting
Helmets should feel slightly tight when first worn, with the interior touching most of the head, but not restrictive enough to cause pain. There should be no hot spots or pressure points on the skull or face caused by the helmet's interior. There should be some restrictions on its movement.
During the wearing period, a helmet adjusts to the shape of the rider's head, breaks-in, and loosens up. While it should never become too loose, it should not become easy to turn around.
Putting the helmet on should feel tight since it covers the whole head.
Suitable helmets should be worn evenly with the eye port's upper edge just above the eyebrows. They should also allow good peripheral vision.
You can check the fit of the helmet interior by placing a finger between it and your head. If the helmet fits easily, try a smaller size. Consider the cheek pads when checking for proper sizing on some helmet models since they can be changed for a better fit.
05. Technology
Technology offers great features at incredible prices and gives any user the greatest advantages of helmet technology.
06. Weight
The first thing you need to consider when buying a dirt bike helmet is its weight. It is often mistakenly assumed that heavy helmet shells are stable or durable.
In reality, lightweight helmets offer the same stability as heavy ones without causing neck, shoulder or collarbone pain. There is no point in spending money on anything that weighs more than 1600 grams since it will most likely cause severe aches.
07. Safety
It is safer and more comfortable to ride a motorcycle with a well fitting helmet. If the helmet does not fit correctly, it can cause pain, and distractions can threaten the rider's safety. It may also not protect the rider's head in case of a crash.
The first thing you need to know about safety ratings is what they are. A Department of Transportation rating is required for all helmets used in the United States. Aside from Snell, there is also the Economic Commission for Europe safety ratings.
DOT only helmets are not necessarily any less safe for highway travel than helmets that meet Snell or ECE standards. DOT, Snell & ECE approved motocross helmets are listed in The Big List of DOT; Snell & ECE approved motocross helmets.
08. Material
From the ventilation ports to the construction material of dirt bike helmets, they have a variety of features that make them more enjoyable and safer for riding on a track or trail. It is important to understand that the best dirt helmet isn't necessarily the most expensive.
Instead, it's the one that fits comfortably without compromising performance or your ability to ride while providing your body with the necessary safety and protection.
09. Style
Last but not least, when choosing a helmet style, color, patterns and shield tint are mostly up to personal preference. However, the brighter and easier to see a helmet is, the more likely it is that drivers will notice you. It is suggested that riders only use tinted visors on sunny days because the face shield should not obscure their vision in any way.