This article has specifically emphasized the list of best jeans for motorcycle riding and what are the factors to keep in mind when buying motorcycle jeans. One of the most commonly overlooked and underutilized pieces of motorcycle safety equipment are riding pants. Despite their best helmets, jackets, gloves, and boots, they will always ignore riding jeans and their values. Most people overlook and underuse a pair of riding trousers as a piece of motorcycle safety equipment.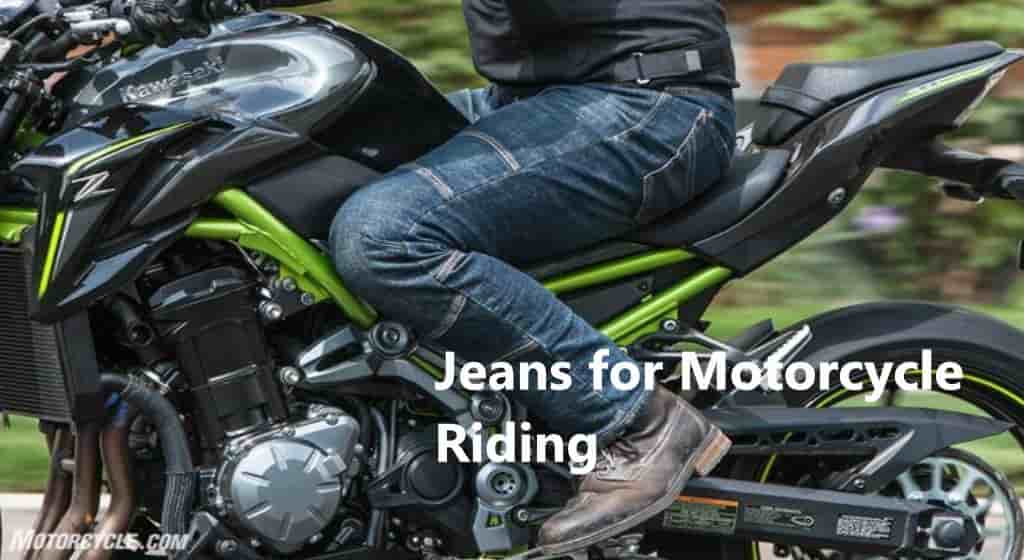 It may be quite comfortable to wear Levi's, but they won't protect you from falling from your motorbike if you fall. Riding pants offer knee and hip impact protection, whereas denim rips apart instantly in rough situations, so it is imperative to wear them at all times.
Due to the fact that legs come in a variety of sizes and shapes, riding jeans are usually sized according to the length and size of the legs. Jeans may appear normal, but they protect your covered region from accidents by playing a role in the process. 
Motorcycle riding jeans
Recently, riding jeans have become popular, and they consist of one layer of denim injected with proprietary cutting-edge ingredients.
An essential piece of motorcycle riding equipment is a pair of riding jeans. The knees of riding trousers are protected by built-in knee pads, and some also feature foam padding on the hips. Abrasion-resistant textiles or mesh are used in riding trousers and riding jackets.
The biker pants absorb some impact even in the event of a fall and the fabric will not tear in the event of a small accident.
Reflective piping is also commonly found on riding pants so that you can be seen more easily by others. Based on the jeans, they might also come with ventilation panels, water-resistant liners, and thermal insulation liners.
Pros and Cons
Acts as a safety measure for your lower portion.
Wide range of collections available keeping in mind the styling factors.
Cons
These pants only work in minor accidents.
Additional expense.
Factors to keep in mind while buying the motorcycle riding jeans
Although riding jeans may seem similar at first glance, they aren't at all, as there are a number of finer points one should consider before buying.
Buying riding jeans requires you to consider four key factors:-
Styling factors
A wide range of styles of motorcycle jeans is available, varying in colors, patterns, details, and accent stitching. There is almost certainly a moto-counterpart to your favorite regular jeans style.
Manufacturing procedure
There are a number of different materials that can be used in the construction of these trousers, so it's important to uncover what they are, especially if you are planning to invest several hundred dollars in a pair of pants.
Also, if you're looking to save money on the purchase of your riding pants, you should consider some non-single-layer pairs.
Safety measures
These innovatively infused types of denim provide good sliding protection, but not much protection against impacts due to their abrasion-resistant structures.
Therefore, the best riding jeans of today often feature armor — especially at the hips and knees — or armor pockets for accessories.
Top motorcycle-riding jeans
01. Scorpion EXO Coverts motorcycle jeans
(Price- $160)
Having a Kevlar lining actually protects your abdomen section, which is a huge improvement over the ordinary Scorpion Coverts at this price point. With enough friction, the denim outer shell will burn through despite being four times more resistant to abrasion than conventional denim.
Due to their robust protective potential and universal design, Covert jeans are highly versatile riding garments, and whether on a bike or on a Saturday night out these Jeans are equally at home.
For those who want real-world protection without sacrificing nice aesthetics, the Covert jean is worth a look.
02. Aerostich Protekt motorcycle jeans
(Price- $120)
Known for their Road crafter coverall suits, Aerostich manufactures motorcycle trousers as well. The jeans featured in this article are the Protekt jeans, and while the name of the jeans is spelled incorrectly, they are of excellent fit, finish, and quality overall.
A piece of heavy-duty denim fabric is used in these pants, which are reinforced with TF3 Impact armor and high-tensile 500D nylon overlays are precisely placed in the vital areas of the pants to provide maximum durability.
03. Rev'IT motorcycle jeans
(Price- $232)
Rev'IT jeans are designed in such a way that it is both comfortable and stylish. Designed from Poly-cotton stretch denim, which is composed of three layers fused together to form one water-resistant layer, these jeans are weather resistant.
During a slide, pockets are installed to facilitate the installation of certified level-one hip protectors. The knee-certified protector maintains flexibility even in hot temperatures while providing impact protection.
In combination with rubber-sealed zippers, Hydratex's three-layer pro membrane produces a pair of jeans that's very waterproof.
04. Spidi J-Denim motorcycle jeans
(Price- $360)
A thin fit and a little stretch make the Spidi J-Dyneema Jeans comfortable. For abrasion resistance, they are made from a single-layer, Dyneema cotton mix that is manufactured with a single-layer, Dyneema cotton blend.
In a Cordura and cotton blend, the J-Tracker Spidi riding jeans are slim and comfortable. Using a zipper on the outside, the Warrior Lite knee protection is easily removed from the outside, so once you get to your destination, you can simply remove the knee guard and continue with your work.
In the event of a slide, you can connect a Spidi jacket to the J Tracker jeans using the hook on the back of the jeans so that you are totally protected.
05. G-Moto motorcycle jeans
(Price- $97.66)
G-Moto jeans are made from 100% denim, which has been coated in critical regions with aramid fibers to reduce the risk of abrasion in the event of an accident. An adjustable CE-certified armor provides additional protection from impacts.
Moreover, they include a zip that connects the jeans to the jacket to prevent the jacket from riding up and exposing the lower back.
These urban summer riding trousers are an excellent option if you're looking for an affordable, comfortable yet stylish pair of riding trousers for the summer. They are available in blue and black as well as standard and short-leg lengths. 
06. Dainese Amsterdam motorcycle jeans
(Price- $220)
With the Dainese Amsterdam waterproof jeans, you will be able to wear them casually and comfortably throughout the spring, summer, and winter. The jeans are lightweight and can be worn at room temperature by removing the blanket.
Nevertheless, when worn, the CE-certified knee protection and contact point support provide true motorcycle gear, regardless of the ambient temperature. With the paddle, you can adjust the fit more accurately and modularly.
You will stay dry and comfortable in Dainese Amsterdam motorcycling jeans during the cold, wet months. It is waterproof, has a replaceable heated lining, and keeps you dry and comfortable at the same time.