The following article is a brief guide to motorcycle camping, and provides you with important information that you need to know when deciding what you must consider for a motorcycle camping trip. Going on camping on a motorcycle is a splendid experience. It is a great idea to camp on a motorcycle tour.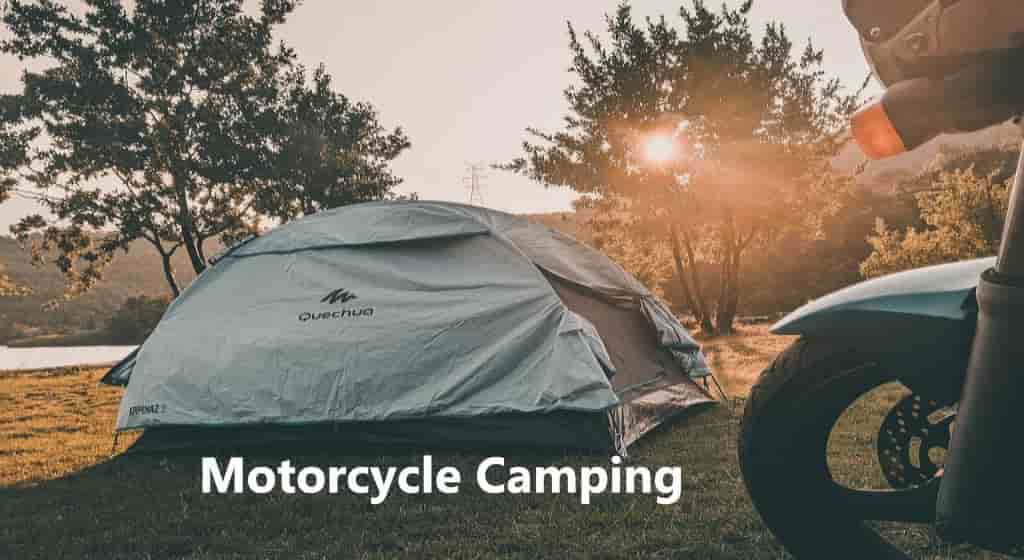 There are many reasons for motorcycle camping, you will save money on accommodation, allowing you to spend more money on fuel; you will meet like-minded riders; and you can enjoy travelling and enjoying nature also while riding to different places.
Things you must consider for motorcycle camping
01. Choose a motorcycle camping type that suits you
There are different types of environments for motorcycle camping, so you must understand which is the perfect campsite choice for you.
02. Existing Official Campsites
There are official campsites in many countries. You will not need to worry about water, security, or electricity and might also find useful services for a small amount of money. It's a good idea to use approved campsites if you are on a motorbike tour or have a limited amount of time so you do not waste time looking for a place to stay every night.
The only problem with official campsites is that there might be too many people and the cost might also vary depending on the place of the campsite. It is also not a fancy option for someone who wants to have some adventure or wants to explore while camping, making it somewhat less of a camping experience.
03. Glamping
A glamping experience could be a great option if you're looking for a weekend getaway with friends without having to pack up your bikes and set up camp. Having a night under the stars is still a part of the experience, just with less stress involved to accommodate everyone's camping wants and needs.
There are various types of glamping accommodations, including yachts or small cabins. If these items are not already provided, you will only need to bring a sleeping bag or bedding.
04. Wild Motorcycle Camping
Camp anywhere you want when you go wild camping. In order to determine if camping in the wild is legal in the country you are camping in, you should check the laws of the country first. The most crucial thing to keep in mind is to show respect and request permission if it is someone else's property.
05. Choose a proper destination
Planning a route and destination that will allow you to reach camp before dark is ideal. In comparison to hanging a hammock or erecting a tent in the dark, setting up camp at golden hour is much less stressful.
Whenever choosing a campground, try to pick one where you can get there within four to six hours. Enjoy the ride along the way with plenty of time to spare
Wolf Walker Motorcycle Tent for Camping 2-3 Person...
🏍️Bike port camping tent with spacious design stores a full-sized...
☀️Convenient access thanks to 4 different entryways from the tent and...
🏕️4 Season tent with waterproof rainfly for cover and protection from...
🎵The size of the tent is 187.2inch x 98.4inch x 72.8inch. It can easily...
👍Tent includes 3 finest aircraft grade aluminum poles with stakes and...
Build your own camping kit bag by choosing the items that apply to you and your travels. Some of the basic things you need are:
06. Equipment for sleeping
Choosing the right sleep system based on the environment you plan to camp in is the next step. At least you should take along a sleeping bag or a pad
The worst thing that can happen is shivering all night in frigid temperatures without appropriate clothing. A camping pillow can be added, or your riding gear can be used as a pillow.
07. The Tent for camping
A large, multi-room tent that is family-sized will protect your bike from different elements. The drawback is that it could be difficult to pack.
When packed, a backpacking tent may be very large but it protects you and is comfortable, and is very portable. In addition to not being able to store your bike, it is not as spacious as one that is appropriate for a family.
An expedition tent is also a good option. Expedition tents are a relatively new product on the market and are designed specifically for motorcycle adventurers. Two sections make up these tents: one for sleeping and one for storing gear and your motorcycle. Your bike is protected from the weather and theft with the large doors on the tent. In the event of a storm, it provides a dry place to service your motorcycle.
08. Food preparation while motorcycle camping
When you are camping, you can never really predict what will happen or where you will be when it is time to have food There are many lightweight and convenient camping cookout gear options available today.
You can bring a portable stove and some utensils for simple meal preparation and cleaning, You can also bring ready to eat food or instant food if you plan to just camp for a day or two.
It is always important to clean up afterwards otherwise it might attract wild animals, and might also pollute the environment.
09. Firestarter
In order to have a reliable food source, signal, and warmth source at all times, make sure that you pack a waterproof fire-starting option.
10. Equipment for staying warm
While it may be very hot when you set up your tent in some parts of the world especially desert regions, it will probably be freezing when the sun sets. It is important to wear a woollen hat scarf while you sleep as your head loses most of your body heat when you sleep.
You can put clothes at the bottom of your bag so that your clothes will also stay warm for longer times.
11. Maintaining your motorcycle before camping
The very least expensive maintenance you can perform on your bike is an oil change. It could be a good idea to get your oil changed, and your oil filter updated, and to have a technician check the rest of the bike to make sure it is ready for the trip if you are going camping.
Having new oil and a new filter is a simple method to avoid problems on the road since the oil filter prevents dirt and pieces of engine wear from entering the system.
Taking care of your tires is another important part of vehicle maintenance. A sign that they need to be replaced is anything that indicates they need to be replaced. Tires can quickly go from within the safety margin to unsafe levels of wear during a long haul on hot highways.
Changing your tires before you go on motorcycle camping is a good idea if it has been a while since you have done so. Last but not least, make sure your inspection and registration are updated and will remain current throughout your trip.
12. Other Preparations for your motorcycles
Side stand plates should be made bigger in order to increase their surface area. It is possible to accomplish this by either welding a larger plate or by purchasing a dedicated attachment.
If it rains overnight, this is handy for parking off-road and preventing your bike from sinking into the soggy ground. Make sure your bike is not parked in such a way that it might land on your tent if the wind blows it over.  It is always a good idea to lean your motorcycle away from your tent when you are parking it.