Exhaust Wraps are motorcycle accessories that are used by many riders across the world. Motorcycle Exhaust wraps have some pros and thus are used by many riders but like any product, it also has their fair share of cons.
To make your motorcycle ride much safer, wrap the exhaust pipe of your motorcycle that acts as a safety shield. The exhaust wrap is designed in such a way that it keeps the heat inside the exhaust pipes for as long as possible. In this way, the cooling process is slowed down, allowing gases to flow faster and allowing the engine to operate more efficiently and efficiently.
What are the pros of using a Motorcycle Wrap?
There are many uses of a Motorcycle wrap that might help you decide if you want to buy a Motorcycle Wrap for a motorcycle.
Provides protection for your feet and clothing
As we know the car exhaust tends to heat up very quickly, and its location is just near the resting position of our feet, Burns on ankles and expensive boots have happened to many people over the years due to the heating of the motorcycle exhaust.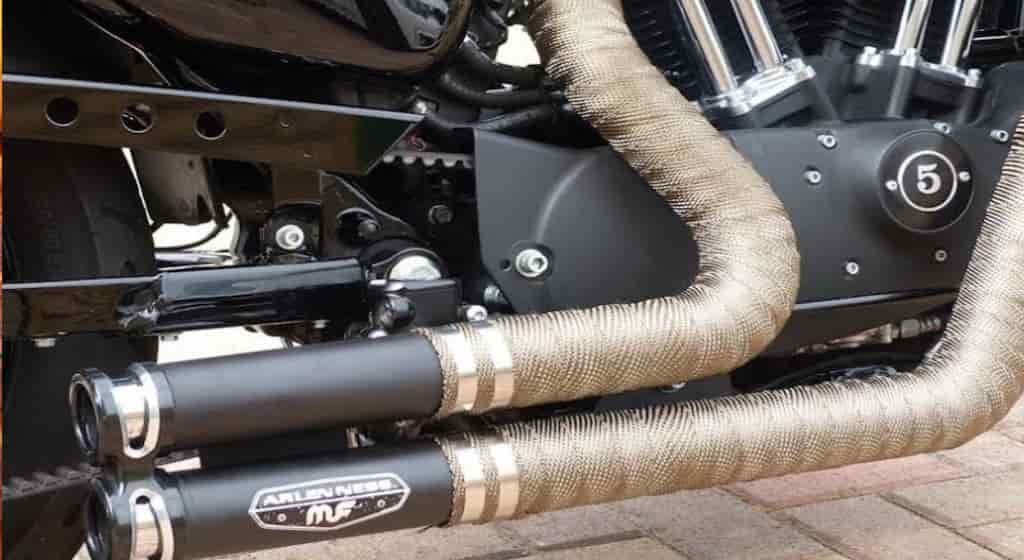 In terms of your physical safety, it is very important to keep this point in mind. As you drive, it is highly likely that you will make contact with the extremely hot exhaust pipes inattentively, causing perilous damage to your feet or ankles, or shoes. In certain circumstances, exhaust wrap can contribute to a safety procedure. Your leg and feet are protected from burning by wrapping the exhaust pipe.
Prevent the cooling of exhaust pipes
The exhaust pipe temperature must remain high in order to ensure the engine's efficiency and performance. With exhaust wraps, you will able to accomplish this efficiently.
Metal wraps maintain a relatively high temperature, and so does the exhaust pipe that they surround. Exhaust gases move quickly due to the high heat. Thus, gases are released into the air smoothly by the engine.
Helps to keep the motorcycle cleaner
In modern bikes, the single exhaust tube is considered to give a vintage look, but keeping the bike clean overall is a tiresome task.It is highly possible to colorize the metal when it is subjected to excessive heat, even if you are using high-grade steel that has the ability to handle these temperatures.
You can magnify the look of your bike numerous times if you are able to fit the wrappings outside the exhaust perfectly.
Wrapping the exhaust will allow you to hide this incongruity without having to experience the whole layering process that comes along with it.
Modified and Customized Look
The exhaust system wrap can be applied to any part of the exhaust system that you choose.
It is up to you to decide whether you want to cover the entire pipeline or just a part of it. A variety of shades are available in order to match your motorcycle's color.
Very Easy Installation Process
Installing the wrap around the pipe is quick and easy. Setting up the wrap should take about an hour or less.
In addition, you will be able to complete the task within an hour. There is no doubt that motorcycle riders who are professional are quite interested in having an exhaust wrap fitted to their motorcycles as a result.
When you are going to begin the exhaust wrapping process, make sure that you check with the manufacturer of your motorbike to confirm if there are any details or warnings that you need to pay attention to.
LEDAUT 2" x 50' Titanium Exhaust Heat Wrap Roll for...
2"X50' Titanium Wrap with (pack of 16) Stainless Steel(304) Locking Ties.
Titanium heat shield sleevevis made from crushed volcanic rock.
High resistance to abrasions, oil spills, temperatures and vibration...
The exhaust heat wrap tape can withstand 1400F direct/2000F radiant heat.
The thermal heat wrap reduces heat under hood up to 50% and improving car...
What are the cons of using a Motorcycle Exhaust Wrap?
Like every product and accessory Motorcycle Exhaust Wrap also have its fair share of cons. Here are some of the cons which will help you finally decide if using a Motorcycle Exhaust wrap will be worth it or not.
May get Smokey
It is possible to experience a smoky environment as well as a bad odor immediately after mounting and applying exhaust wrap.
The exhaust pipe fumes from the motorcycle begin to scent negative as soon as the bike is started. Despite the fact that this is very common, motorcycle riders do not find it enjoyable.
The smell of upholstery and plastic in new cars is not as pleasant as the smell of new cars and trucks. Whenever possible, you should open up the throttle on a stretch of the open road so that the wind can clear the air.
Might be hazardous to fire
An exhaust wrap can provide you with some extra protection against heat on a motorcycle with a single tube. The whole system can be done in some products in order to ensure that higher temperatures can be required at the back.
Putting this product on your bike will only result in oil, grime, and gas accumulating on it. Anytime a spill occurs in a hot environment, there is a fire hazard present.
May collect rust
The exhaust wraps of your motorcycle might get trapped in water if you leave it idly for a few days, which may lead to rust growing on them.
In order to avoid this disadvantage, be sure to ride as often as possible at city rates in order to push that dampness away. As long as the water is diffused, regular riding can protect against corrosion.
Might Impact the reselling purpose
It may be necessary to postpone getting an exhaust wrap if you plan to sell your motorcycle in the future.
Because everyone has their own aesthetics and ideas, wrapping the exhaust pipe will turn off a lot of potential customers. The advantages and disadvantages of a motorbike header wrap frequently depend on personal choices to determine the project's final value. Some people enjoy the aesthetics of this work as much as the benefits of its visibility.
Is Exhaust Wrap Right for you?
It is true that wrapping your exhaust is not a necessity, but it does have some benefits which should not be ignored. Performance is not the only aspect to consider when it comes to cosmetics as well.
It is important for people to realize the main benefit of choosing an exhaust wrap is the fact that it helps to reduce the engine temperature. Having heat energy retained within the exhaust system of your engine means you will be able to reduce the amount of heat energy that escapes and transfers to other components of the engine, as well as improve the flow of gases through the exhaust system. So you might use a Motorcycle Exhaust wrap if you feel the need for it.