Snowmobile helmets are briefly discussed in this article, including their types, benefits, considerable factors for buying best snowmobile helmets in the market. Snowmobile riding is a matter of great danger and might cause a lot of accidents. So you must always protect yourself by using a snowmobile helmet.
Snowmobile helmets: Definition
A snowmobile helmet is an essential piece of equipment, because your head will be protected from impacts, and they will also keep you warm while you are riding a snowmobile. Snowmobile helmets, unlike motorcycle helmets, include vents that can be opened or closed to stop fogging. Double lenses are used in snowmobile face shields to prevent fogging.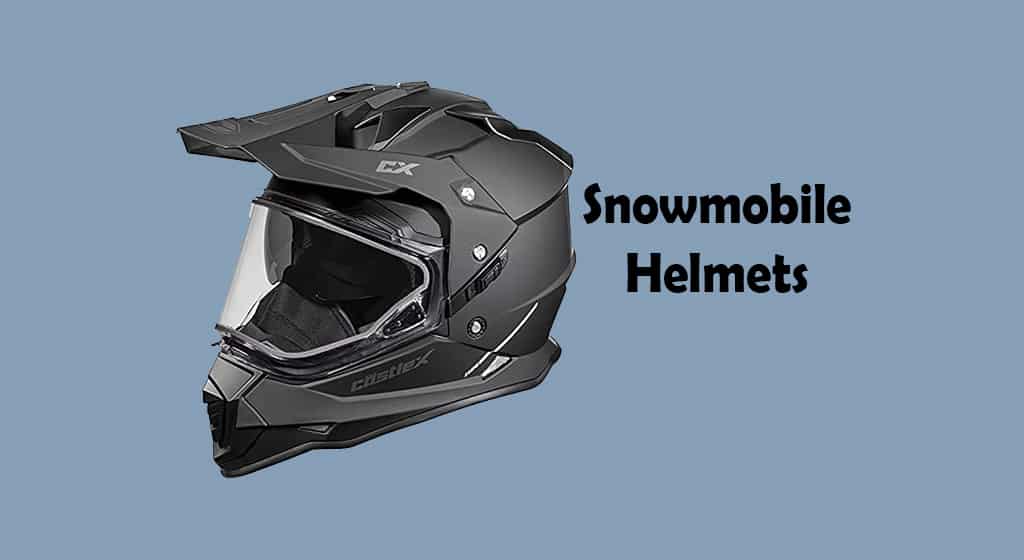 Snowmobile Helmets Types
Full Face Snowmobile Helmet
By guiding your air out of the helmet, the dual lens shield and breath box limit the possibility of fogging.
Since it's a snow helmet, it has dual lens shields and a breath box, which differentiates it from motorcycle helmets. The sun visor may be inside or outside the helmet and can be folded up when not in use.
Dual Sport Snowmobile Helmet
Helmets like these combine the features of a full face snowmobile helmet with those of a snocross helmet. In addition to the duckbill visor over the eye port, these helmets have the standard breath box, dual lens snow shield, or electric snow shield.
Modular Snowmobile Helmet
These helmets are the most popular type and have the unique feature of being able to flip up the entire front when necessary. People with glasses or who are claustrophobic often wear this type of helmet. There are also pockets for communications equipment in many of these.
The snow shields all come equipped with either a dual lens or an electric dual lens. The sun visor in some of these modular snowmobile helmets can be flipped up and down.
Snocross Snowmobile Helmet
In addition to a breath box and goggles, snocross helmets are similar to motocross helmets. The breath box helps keep your nose and face warm and directs your breath outside the helmet.
What are some of the benefits of wearing a snowmobile helmet?
There are many benefits of wearing a snowmobile helmet, which are as follows:
If you fall into freezing water while riding a snowmobile, the foam liner may provide some flotation. In addition to keeping your brain warm, wearing a helmet provides insulation.
It is possible to open or close the vents on snowmobile helmets to avoid fogging.
When riding a snowmobile, your head and face are protected when you collide with another person or fall off a tree. You are also protected from the cold and loud noises caused by the motor.
Fogging is prevented by the double lens of snowmobile face shields. A defroster built into some face shields plugs into a motorcycle outlet.
What are the design features that make a snowmobile helmet different?
There are many features that make a snowmobile helmet different are:
Visor: There is usually a clear material used for the visors on snowmobile helmets. Riding with clear visibility is possible thanks to this. The helmet also protects the rider's eyes from the sun and wind.
The Strap system: An ordinary helmet does not have a strap system similar to that of a snowmobile helmet. Head straps on snowmobile helmets go over the top of the head and under the chin. These straps help keep the helmet in place when it falls or crashes and also ensure extra protection and grip for anyone who is wearing the helmet.
The Ear padding: Riders' ears are kept warm by ear pads that are usually included in snowmobile helmets.  The reason for this is that it can prevent frostbite.
Venting system: There is usually a venting system on snowmobile helmets. A rider's body temperature can be regulated by the venting system. In some vents, you can open and close them. In other cases, they remain open at all times.
The Helmet liner: The helmet liner is the part of the helmet that comes into contact with the rider's head. The liner is usually made of soft material that keeps the head cool by absorbing sweat.
As part of the helmet liner, padding is provided in various areas to help distribute the weight of the helmet more evenly.
What are some of the factors you must consider when buying a snowmobile helmet?
When it comes to choosing the best snowmobile helmet, narrowing down your choices can be very challenging. There are some factors that you must consider before selecting a snowmobile helmet, those are:
The Type of helmet: Snowmobile helmets can be divided into three types. A modular face shield, an open face shield, and a full face shield are available. Providing maximum protection, full-face helmets are the best option for snowmobiles.
The Weight of the helmet: Snowmobile helmets are required to be worn at all times while riding your snowmobile. As a result, one of the most important things to consider when considering the weight of a helmet is whether you will feel comfortable wearing it.
The safety ratings: Snowmobile helmets are primarily designed to protect you from accidents and provide you with the level of safety you need under any circumstances. Snowmobile helmets are generally rated according to their safety level, which is a good indicator of how safe they are.
List of best snowmobile helmets
(Price- $89.95)
This Westt Cross helmet is the perfect option for you if you want to wear a helmet while cycling. There are two visors on these helmets order to enhance your vision:
A primary outer visor with built-in sun protection technology,
A secondary outer visor, which is detachable, so you can wear glasses or goggles while you are wearing that helmet.
This product is also equipped with a safety buckle for ease of use, rapid release, and a safe working environment.
There are many reasons why this product is such a great investment, including its lightweight design, precise fit, and easily washable and reusable inner cushioning that make it a fantastic product.
Castle X EXO CX950 snowmobile helmet
(Price- $150)
Castle is one of the best snowmobile helmets available right now, and it comes out on top of our list because it has more features and is more adaptable than almost anything else you can find on the market.
As a modular helmet, it has the added advantage of being able to retract the chin bar if a necessary break needs to be taken, or if there is an emergency that needs to be addressed.
The convenience and enhanced protection offered by modular helmets make them preferred by many motorcyclists.
Additionally, this product provides performance and value thanks to an aero-tuned ventilation system and a comfortable anti-microbial lining that is easy to clean.
Typhoon Dual visual snowmobile helmet
(Price- $120 approx)
Typhoons may not have the same level of fame as some other helmet manufacturers, but that doesn't mean their helmets aren't good.
You can enjoy the clearest vision possible while riding your snowmobile with the dual visor TH158 snowmobile helmet. Two-pane shields are included in Typhoon TH150 helmets and they are also treated with anti-fogging agents.
The helmet is also equipped with a chin skirt and a breath box that can be adjusted in order to keep your face warm and shielded from the wind during your ride.
Taking into account the modular design of the helmet, the face can be easily opened by pressing a button on the helmet, and a retractable sun visor is included in the helmet, which is ideal for riding in the afternoon sun.
ILM helmet
(Price- $140)
Helmets with full-face systems include compartments for communication systems, and eyeglasses can be worn while wearing them. The design is compatible with eyeglasses, which keeps them from falling since they are compatible with them.
A toggle control is also included on the tinted inner lens, as well as a pin lock on the transparent face shield. This helmet's interior is equipped with sophisticated technology that enhances the riding experience.