Owning a dirt bike can be a great accomplishment for many but maintaining one can be pretty challenging. For instance, you need to be extra aware of its properties and its specifications. Riding a dirt bike is always about the speed and specifically, the speed of the dirt bike is mostly influenced by its tire properties.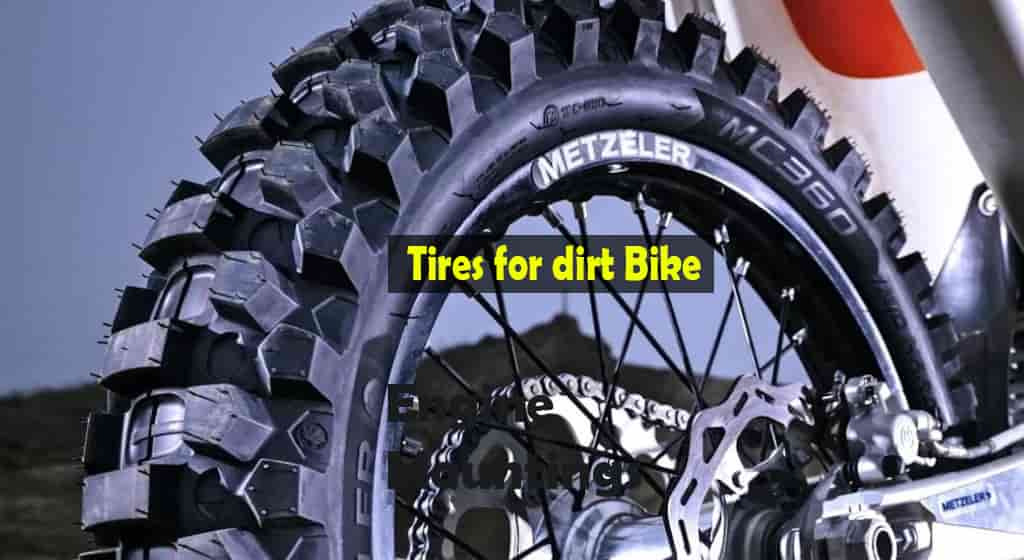 There are a lot of things to consider when choosing tires for dirt bikes, and it can be quite difficult to find the right dirt bike tires.
The different types of treads, the appropriate pressures, and the wide variety of brands you can choose from, along with learning the appropriate time and reason for replacing them, can be quite daunting and time-consuming.
Some facts about dirt bike tires
Here are some of the essential facts you need to know about dirt bike tires:-
Accelerates the bike's performance
The importance of having a good set of tires on your bike is of much significance. This boosts the handling and performance of your bike automatically. Those of you who have had old worn-out tires on your bike and replaced them with new ones will know what a huge difference there is between the old tires and the new ones.
With a fresh set of tires installed, not only will you increase the traction across your engine, but you will also be able to accelerate, corner, and brake more efficiently, instead of just being able to go faster around the bends.   
When you need to Replace tires for Dirt Bikes
A dirt bike tire has a shelf life of about four to five years, even if it has low mileage and you don't use them very often. If you find that your dirt bike has a worn-out shelf then the tire is considered unsafe and you need to change it.
When your tire is old, the knobs are going to be firmer than when you have new ones, and as the knobs lose their flexibility due to age, so does the ability for them to grip. Even if your dirt bike's knobs look square and intact, if your tires are more than five years old, you should replace them.
Before you can ride again, you should replace your tires if you haven't ridden your bike in a while. You can extend the life of your tires by storing them correctly.
Symptoms of worn-out tires
A pair of old dirt bike tires is not an easy thing to examine, and most people do not understand what they are looking at when they do. Despite the fact that what seems to be fine to you might need to be replaced a long time from now.
The following are things you should verify to see if you have word-out tires:
If the knobs are rounded down or short, you need to replace them.
If the side walls of the knobs are cut or cracked tire needs to be replaced.
Faded tires are another symptom of defective tires.
Types of dirt bike tires
Tires come in different types, so you need to choose the one that is best suited to your needs:-
Hard terrains type tires
A soft rubber compound is used in the manufacturing of these tires, which is used to provide an extra amount of grip when it comes to hard surfaces. It is the type of tire that has the tightest tread pattern because the knobs, or tread blocks, are placed close together. 
The hard terrain tires have no problems running over potholes, rocks, sticks, and roots, so they are generally the best used for trail riding on mountain trails or hills, as they can handle potholes, rocks, sticks, and roots without a problem. Closer spacing of the knobs on hard terrain tires results in better traction.
Intermediate terrain-type tires
An almost all-purpose tire is an intermediate terrain tire. This tire is popular among riders since it can, to some extent, handle all kinds of terrain. There is still plenty of space to scoop soil on the soft ground despite the tire tread being tighter and the knobs being close together.
When riding on tracks with shifting terrain or when facing uncharted territory, intermediate tires are typically chosen. However, since they won't match tires designed for soft or rough terrain, intermediate tires are not usually the greatest choices for racing though.
Soft terrain-type tires
Soft terrain tires have a tread pattern with wider spaces between the knobs. This improves the tire's capacity to rake up and cut through muddy ground.
With this specific design, soft terrain tires can have the most traction possible when riding on soft ground, and it is similar to a paddle tire in terms of principle.
List of best dirt bike tires
Here is the list of some best dirt bike tires you could get in the market:-
Dunlop Geomax MX52 dirt bike tires
The challenging off-road terrain is the focus of the Dunlop MX52 Geomax Intermediate or Hard Terrain tire. This tire's strong knob tread pattern will carry you through the hardest trails whether it's raining, muddy, or slippery.
If you use this tire on a road, you could discover that it is rather noisy. If you ride on rougher terrain, such as boulders, the tread pattern can also deteriorate fast. It is also quite attractive and 100 millimeters broad and 19 inches in circumference.
Kenda K760 Dual dirt bike tires
Designed primarily for dirt bike adventures, the Kenda K760 Dual Motorcycle Bias Tire is a popular tire for many reasons:-
The extraordinarily cheap price is first.
You get a high-quality dirt bike tire with a broad surface and thick knob thread for a smoother, more pleasant ride at that reasonable price.
The tire's excellent balance is just another of its outstanding qualities.
The deep tread pattern enables a stronger, improved grip on virtually any surface. The knobs are large enough that mud and grass won't clog them.
Protax PT1072 Motocross dirt bike tires
Soft or intermediate terrain is ideal for the Protax Motocross tires, with these tires you can get much better handling and performance. Know about its benefits:-
To facilitate navigation on uneven ground, these tires have wide, evenly spaced treads that prevent dirt, stones, and other road debris from being stuck in the treads.
When traveling through muddy ground, the tread spacing also keeps the tires clean.
Additionally, it is built with a strong sidewall to encourage sharper cornering in all-weather situations.