When using your bike for trails or dirt bikes, a motocross helmet is a must have piece of equipment. Dirt bike helmets keep your head protected from unforeseen accidents and make riding a dirt bike a fun and safe experience.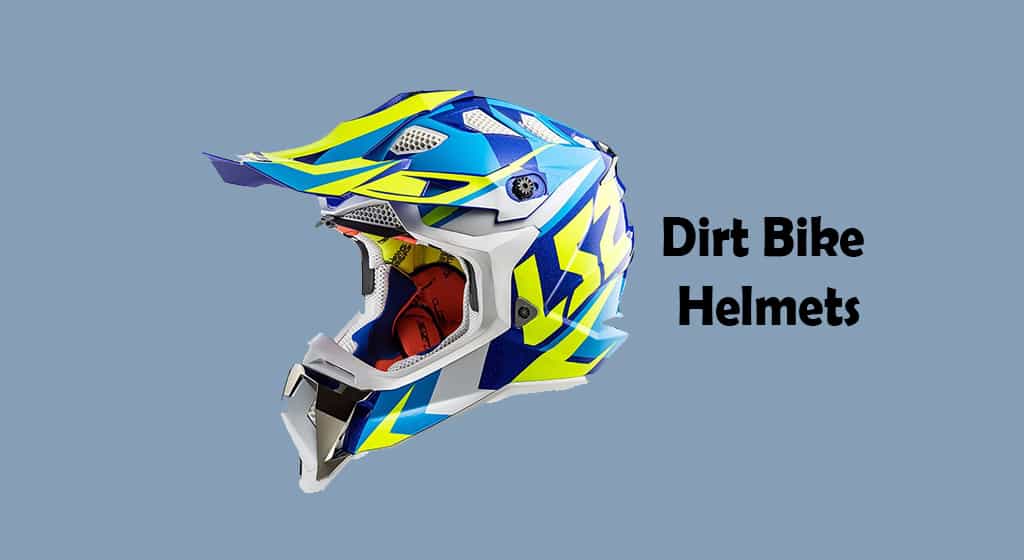 In a natural environment, motocross helmets provide airflow instead of a sealed system. They also deflect rocks and mud. In order to ensure protection from the elements, street motorcycle helmets need to be aerodynamically sleek, while motocross helmets need to be bulkier.
Top 4 Dirt Bike Helmets you should buy in 2023
LS2 Subverter Helmet
LS2 subverter helmets are the perfect motocross helmet for riders who want premium quality without a premium price tag. The lightweight, airflow enhancing, thermo-welded, hypoallergenic LS2 helmet advances your dirt bike experience. It is important to wear this helmet correctly, so buy one size larger and be prepared to carry a little extra weight on your shoulders.
The multi density EPS liner distributes weight on your head and helps keep the LS2 subverter helmet stable, regardless of how fast you are traveling. A sleek oval design makes the LS2 subverter ready to take on rough terrain and new adventures. A variety of shell sizes between extra small and extra large are available for all head sizes.
Pros
Asymmetric oval shell design for increased aerodynamics.
It is available in shell sizes ranging from XS to XL.
Thermo weld system with multi-density EPS liner.
Hypoallergenic laser cut foam liner that is removable, washable, and breathable.
Double D ring and reinforced chin strap for stability.
Helmet detaches quickly and protects shoulders and head with an emergency release system.
With a wider eye port, you can see more peripherally.
Goggles are compatible with any brand.
There are 35 top and chin vents and exhaust ports to provide sufficient ventilation.
The product meets ECE and DOT safety standards.
Cons
A tight fit, heavy weight, and easy to get dirty bright colour padding make this helmet unsuitable for long term use.
ATR-2 6D
You can say with confidence that the ATR-2 is everything that its predecessor was not. As a result of its advanced ODS technology, the ATR-2 can disperse kinetic energy across the helmet more efficiently, meaning it is better at handling linear and angular accelerations. In the event of an accident, the brain is protected from severe damage because of this reduced energy transfer.
This unique ODS technology is characterized by elastic dampers and EPS liners. 6D's EPS liners depose and absorb harsh impacts and energies while dampers manage linear compressions. By combining these features, ATR-2 helmets are greatly improved in terms of safety and facilitate dirt bike riding.
Pros
It weighs just 1480 grams, making it extremely light.
A 6D multi impact EPP liner strategically positioned for maximum impact protection.
ODS technology is renowned and advanced.
The dri-lex liner is washable and detachable for optimal breathability.
The eye port has been enlarged for wider peripheral vision.
It is covered by a three-year warranty from the manufacturer.
Cons
The price of this helmet is relatively high compared to other helmet versions.
Troy Lee SE5 Carbon Helmet
The Troy Lee SE5 features a slim and lightweight design that makes it perfect for long term use. As a bonus, the MIPS Integra reduces rotational forces on your head at certain angles, ensuring your safety. The sleek design, coupled with the attractive color palette, can turn heads as you stroll away.
Troy Lee offers impact protection and absolute comfort with the dual-density EPS layer and 3D-contoured cheek pads. With the Troy Lee SE5 Factory Carbon, you can ride at extreme speeds or low speeds with complete confidence. The XT2 static breathable liner is easy to remove and wash to add to the freshness and comfort of this helmet.
Features
Troy Lee SE5 features the largest ventilation gill size in comparison to its other editions. In addition to a redesigned chin bar and a wider mouthpiece, SE5 significantly improves the helmet's air supply. It is also important to mention that the side gill intake louvres provide proper ventilation while maintaining a cool face.
Pros
Carbon fiberglass construction that is lightweight and slim
Three shell sizes and dual-density EPS layer make this a sleek design that fits securely
The embedded MIPS system protects the brain from injury.
With a wider mouthpiece, the EPP chin bar liner has been redesigned.
Through a collarbone pain mitigation system, users can enjoy pain-free use.
XT2 washable liner that is breathable and removable.
With contoured cheek pads for EMS responders, you are prepared for an emergency.
Cons
There are some cons to the Troy Lee SE5 Helmet, such as the fact that it is not true to size and is relatively expensive.
Shoei VFX-EVO Helmet
It is designed to take on your adventures and dirt biking journeys with Shoei's exclusive multiply matrix shell construction. With its motion energy distribution system, the speed of rotation of your head is significantly reduced at the same time as the safety of your head is greatly improved.
A second benefit is the helmet's aerodynamic and versatile design, which makes it a good choice for individuals with a wide range of head sizes. Shoei EVO offers a variety of shell thicknesses, allowing you to achieve optimum strength and security. As well as multilayer cheek pads to ensure stability when riding on rough terrain, it features an anti slip surface.
Pros
Shell design that is both aerodynamic and lightweight.
V-470 visor provides seamless security and comfort.
The channels have EPS linings & there are 16 intake and exhaust vents.
This helmet has washable nylon cheek pads with complete detachability and adjustability.
This Helmet has a maximum stability through three dimensional sculpture.
With state of the art shell forming technology, you can expect uniform shell thickness.
Technology that Shoei's MEDS technology uses to absorb impact.
A quick release system is integrated for an emergency.
A warranty of three years is included with the hardware.
Cons
Shoei VFX-EVO helmets have a problem with tight fitting.