Often, when dirt bike riders get their new ride home, one of the first upgrades they have the chance to make is the installation of a new aftermarket exhaust system, which is one of the most popular upgrades.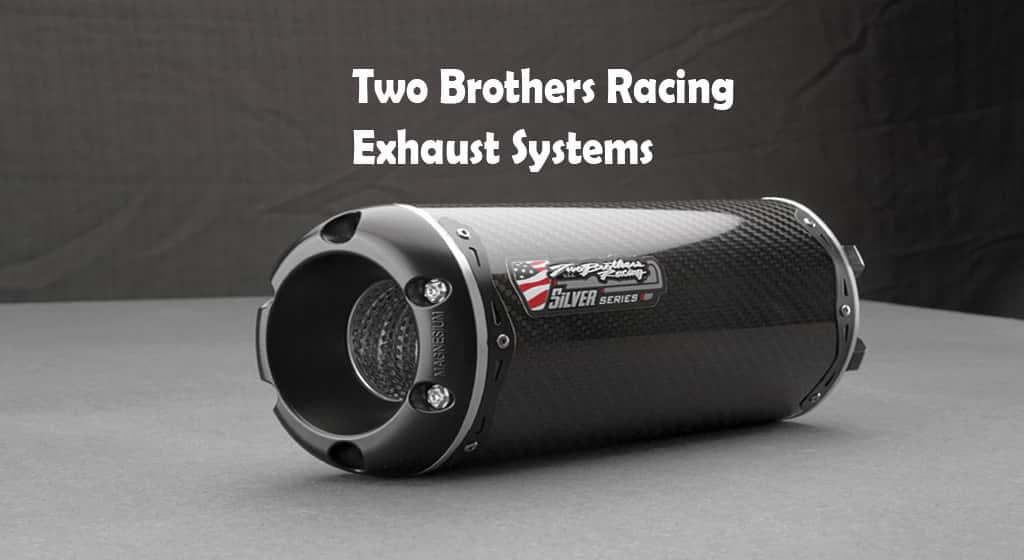 Speaking of exhaust we cannot forget about the Two Brother's Exhaust system. The Two Brother Exhaust system has been in the motorcycle industry for over 30 years and is one of the top manufacturers of performance exhaust systems and aftermarket components in the industry.
The Two Brothers families of exhaust systems are inspired by a professional racing heritage and can be found on everything from sport bikes to cruisers with v-twin engines. They only use the highest quality materials and TIG welds all exhaust systems ourselves, using the highest quality materials.
About the Two Brothers Company
The Two Brothers Racing team was founded in 1985, and they have already had a long and storied history in the racing world by now. We have had the pleasure of working with world champions at Two Brothers and we were able to deliver some of the best bikes in competition racing that we have ever seen.
Among the many features of Two Brothers Racing exhaust systems is the fact that they are lightweight and loud at the same time.
Various materials can be used for the cans of aftermarket exhaust systems, including carbon fiber, aluminum, and titanium, and each includes a spiral-bound perforated core.
The exhaust systems for Two Brothers racing cars are still made by hand in the company's workshop. The best part is that they still offer the same great horsepower and sound that made them so popular in the early 1990s.
Some features of the Two Brother's Exhaust
Here are some of the unique characteristics of the Two Brother's Exhaust:-
The lightest: There is a good reason why Two Brothers are able to put out such impressive exhaust systems is that they keep their mufflers and exhaust systems as lightweight as possible.
This helps to increase the amount of horsepower produced by the engine and that is how you can get much better performance. Aluminum, fiber carbon, and titanium are commonly used to make most of their products.
In addition to bringing a more linear power curve, these exhausts also help bikers to be a little more cost-efficient when it comes to their bikes.
Two Brothers Exhausts are popularly reported for their ability to provide a lot more pull as well as an elimination of the buzz and vibration that often come with riding on the highway after a car has been fitted with a Two Brothers Exhaust.
Sound of the Exhaust: When riders install a Two Brothers Exhaust on their bikes, one of the first things they notice is the roar that is unleashed from the bike as soon as the exhaust is installed. There is a very strong tone to these exhausts, and they are very noisy.
The fact is that many riders say that the sound is comparable to that of a Harley Davidson, which is pretty impressive for a racing bike.
Having a Two Brothers Exhaust installed on your vehicle will produce a deep resonating sound throughout the entire power band, and that sound will be more intense as you rev your vehicle higher.
There is no doubt that motorcycle enthusiasts will enjoy the full-throated sound that a Two Brothers Exhaust will give their racing bikes when they are ridden.
Exhaust performance: There is a wide range of exhaust systems available from Two Brothers, including full exhaust systems and slip-on mufflers that are easy to install.
No doubt installing the full exhaust system can bring more power to the vehicle, but both options have been proven to significantly improve horsepower and torque.
Cycle World conducted a test comparing the performance of the engine's stock configuration to the modified setup, resulting in a 7% improvement in power and a 7% increase in torque at 6000 RPM, when compared to the stock setup.
Build Quality: If you choose the Two Brothers Racing slip-on exhaust system, you will see instant gains in horsepower and torque over the stock exhaust system, as well as significant weight savings over stock exhaust systems.
They have a wide variety of exhausts to choose from, including aluminum and titanium models, but the most popular exhaust model among their customers has to be the carbon fiber model.
The exhausts that they sell come with V.A.L.E attachments that make it easy for you to install them.
The design of this system is patent-pending, which means that there is no need to weld or use springs to install a new exhaust system.
Best Two Brother exhaust available in the 2022 market 
Here is a list of a few best exhausts from Two Brothers:-
S1R Slip-On Exhaust ($770 approx)
The two-brother S1R Slip-on Exhaust is the latest addition to BMW's rich and varied line of powerful and competitive exhaust systems. Featuring a carbon fiber sleeve, the S1R exhaust comes with a natural aluminum outlet and stamped, spring-mounted inlets for ultimate durability and a sleeve made of carbon fiber for strength.
There is a bold design on the end cap which resembles that of a jet engine, which makes this exhaust move at the speed of sound while standing still, making it look like it is moving at the speed of sound.
Features
The exhaust is fully serviceable, whether it is in need of repairs, routine maintenance, or occasional repacking.
High-temperature carbon fiber for aerospace is being used to build this exhaust.
An inlet with a stamped spring fit is also being used.
Bagger 2-Into-1 Shorty Exhaust For Harley Davidson ($750 approx)
Harley-Davidson's classic styling is complemented perfectly by Two Brothers Racing's exhaust system. Performance gains of horsepower and torque are highlighted on this exhaust, highlighting TBR's performance background.
Feature
Mufflers and exhaust system included
This kit includes instructions for installation as well as hardware.
All the TIG weldings are pure hand made no artificial touch is being applied.
M-2 Black Series Exhaust System ($610 approx)
Black Teflon-coated cast magnesium end caps, black billet aluminum inlet, outlet, and black canister reinforcing bands make up the Black Series Exhaust's construction.
A flawless, leak-free connection between the muffler and mid-pipe is ensured by the Black Series' revolutionary V.A.L.E. system and X-Lite retention ring, just as with all other TBR M series exhausts.
Features
In the case of damage, regular maintenance, or the occasional repack, fully serviceable.
Spiral-bound core with holes were used for better performance.
The springs made of stainless steel hide this exhaust.