A suitable helmet expresses your personality as well as protects your head from undesirable accidents.
Do you know the different types of motorcycle helmets? Which one should you buy for what ride?
Here, you will find 6 different styles of motorcycle Helmets regarding the differences of dimension, safety measures, and purpose.
Choosing a perfect helmet for your ride is not rocket science. I have disclosed 6 different types of motorcycle helmets with their purpose, activity, and uses.
Remember! Do not skip a single line lest you may turn to the wrong path choosing the perfect helmet for you.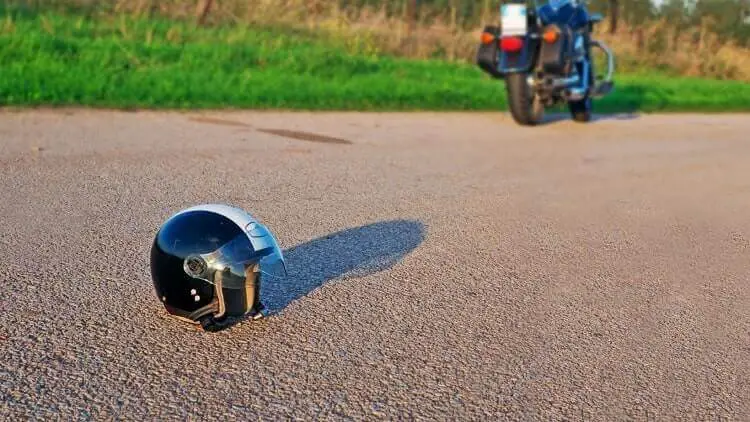 6 Types Of Motorcycle Helmets
Full-face

: Full-face helmet is the safest helmet that covers your entire head and neck.
Modular or Flip-up

: Modular helmet enables you to flip-up the front portion with the frame.  
Open-face or ¾

: The open-face helmet is very comfortable with the absence of an eye portion and chin bar.
Half Helmet

: Half Helmet provides minimal protection with the least coverage area. It covers only the top of your head.
Dig into deeper for detail
1. Full-face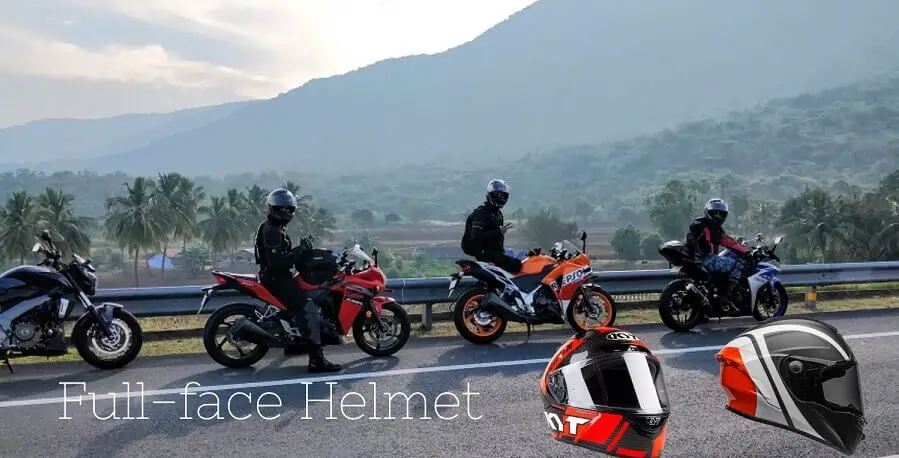 You can call a full-face helmet a traditional helmet due to its conventional style. Although a full-face helmet bears a traditional look, it is the safest helmet among the rest of all.
This helmet covers the entire portion of your head and neck with its body. The eye portion may have two different glass portions such as sun-visor and front glass.
A full-face helmet enables you to watch out the road properly in the sun and night as well. The two different glasses cover the need for goggles.
In the case of protection, a full-face helmet is able to protect a larger portion of your topper section. It has a strong chin that can save your mouth and eyes during an unwanted accident.
A full-face helmet can be suitable for every regular rider. You can put in the helmet in any road condition.
Having a larger dimension, a full-face helmet may have much weight than others. At present, you may find one with update technological touches such as Bluetooth, headphones, a camera, and many more.   
2. Modular or Flip-up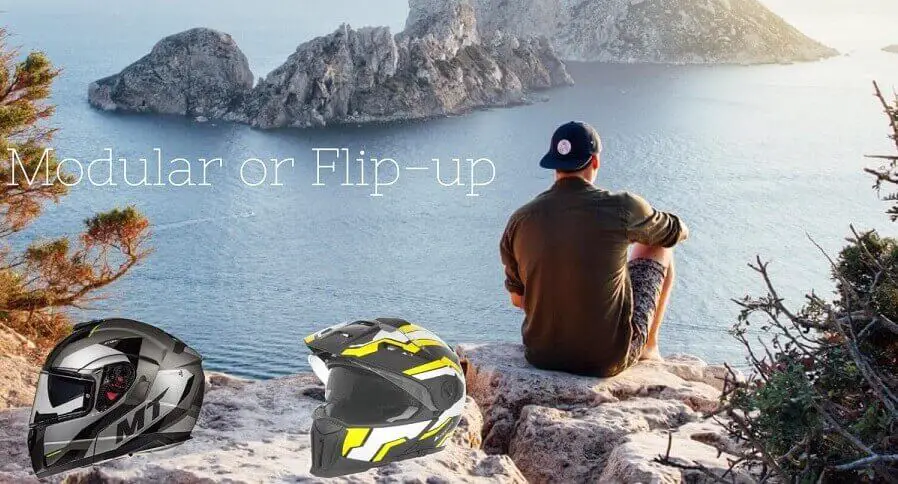 A modular helmet enables you to use it as a full-face or open-face helmet having the chin flip-up facility. The flip-up system of this helmet made it versatile in style.
Likewise, the full-face, quietest modular motorcycle helmet also covers your entire head and neck with its larger dimension. As a result, you may feel the same weight as the full-face helmet.
You can use a modular helmet in three different styles. If you flip up the eye portion, then it will turn into an off-road helmet. Next, by flipping up the chin, you can transfer it as an open-face helmet. When you are all set not flipping up any portion of the helmet, it is a full-face helmet.
Almost all the modular helmet carries sun-visor and water glass to have a clear view in the sun and night as well.
In the case of security, it can save your eyes and mouth with its body if you have put it in without flipping anything. Functionally, this helmet may have some complexity.
Mostly, travelers, cruisers, and adventure riders put in a modular helmet due to its functions.   
3. Open-face or ¾
Open-face helmets are very common in scooter riders, cafe riders, and cruisers. Likewise the full-face helmet, also covers the entire head and neck.
The only difference is the eye portion that the open-face does not have. It does not have the chin portion to protect your mouth. However, it can protect your eyes, sides of the head, neck, and top.
People call it ¾ also due to its coverage area. An open-face helmet is very much comfortable for the regular riders who ride for a short distance slowly.
Here, you may have to wear goggles for your eye protection. Several open-face helmets do not have any glasses and chin.
Providing medium-level protection, this helmet enables air to pass in your face. It can be better in the summer season. However, you may use this helmet in the debris or muddy roads.
The open area in the face portion allows dust to gather on the face that is really embarrassing.  
4. Half Helmet
Half helmet covers only the top to the forehead area of your head providing minimal protection. This is the simplest helmet among all the helmets.
Although a half helmet is dot approved, it is risky for the regular riders who ride for a long distance. It allows air and dirt to pass through your face and head sides. As a result, you may have debris on your neck and nostril.
Having a simple and ordinary style, this helmet is comfortable for all. If you are looking for a simple one and ride for a short distance, then a half helmet may be perfect for you.
You must buy goggles with a half helmet for your eye protection. You may have to wear a mask to protect your nostrils from dust.    
Half helmets are lightweight due to having less coverage area. This helmet is mostly popular for cruiser riders.
5. Off-road/Dirt Bike/Motocross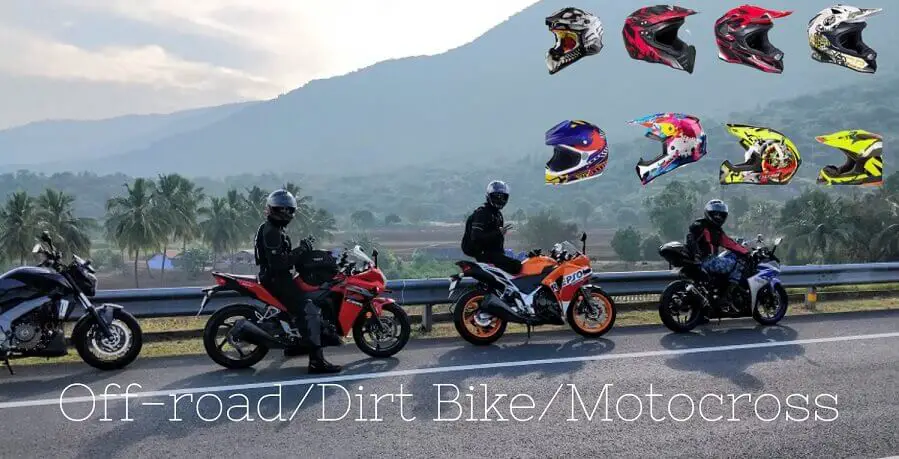 Off-road helmets are very common among professional dirt riders. By the name, you have already got that this helmet is perfect for off-roads such as hilly and rocky areas.  
As made for professional riders, off-road helmets are very much protective for the head, neck, and mouth. Off-road helmets are lightweight having a strong body all over the helmet.
These helmets carry the need and demands of professional riders. The surface of the off-roads is not plain. It makes the motorcycle jerk a lot always. That's why these helmets need to be lightweight and comfortable at the same time to penetrate the riding experience.
As there is nothing for eye protection, you must buy a goggle with the helmet. You can buy the goggle matching with the helmet color.   
These helmets allow the rider to flow air easily so that it may not create any hazard on the balance. When you are riding in a dirt area, this helmet helps you to keep the balance tight and straight.
6. Dual-sport Crossover, ADV, Enduro, Hybrid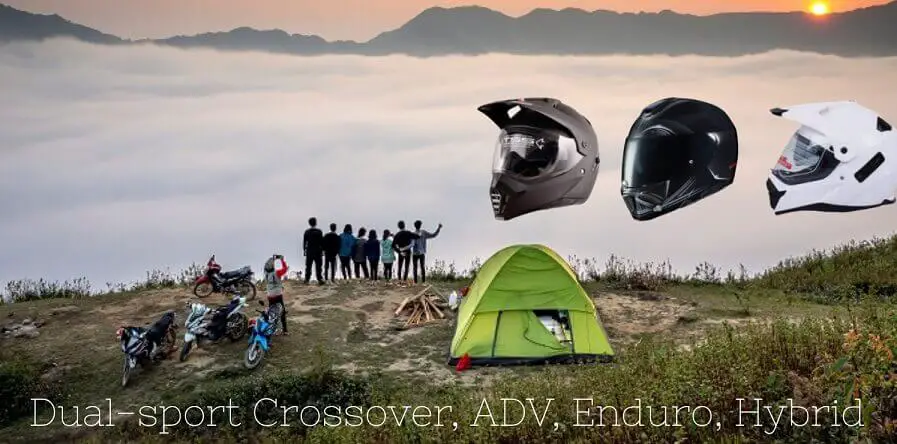 Dual-sport helmets are a combination of full-face and off-road helmets. If you look at the helmet, you will have the entire idea about the helmet. This helmet is common for its stylish outlook.
Likewise, the full-face helmet protects the entire head and neck with its strong body. It has a strong chin portion that protects your eyes and mouths. Professional riders use this helmet for its efficiency of passing airflow.
You will find a flip portion on the side of the chin to flip up the glass. You may not ride the motorcycle flipping up the glass because it holds airflow.
The chin bar is so strong and has a stylish shape that made the helmet more attractive to look at.
The lightweight and stylish look made this helmet popular with regular users also. If you are riding a racing motorcycle, then this is perfect for you.
You may get a hybrid helmet with technological accessories such as Bluetooth, headphones, a camera, and so on.  
---
Racing Helmets Considerations
Style:  Whenever you think about a helmet, racing helmets knock at your door. Racing accessories are imminent due to their stylish look. However, most of us do not like this style. Sometimes, a racing helmet may not last for a long time although the durability depends on the ingredients. You may have to change the foam very often.  
Cost:  Obviously, racing helmets cost more than that others. If you are going to buy one made by a reputed brand, then you have to expense more.   
Suitability: We should buy a helmet regarding our motorcycle style and riding distance. A racing helmet is not that comfortable for regular uses.
---
Safety Standards For Motorcycle Helmet
Legal entity:  Helmets have become an essential part of the riders nowadays. It enhances our style and protects us from an accident as well. To ensure the capability of the helmet, you must buy one with a DOT certificate.
Wearing precautions: Helmets are not a thing to play and pose. We should wear helmet reading the instruction of how to wear a helmet properly. Whenever you are riding, keep the flip-down.  
Size: Before buying any helmet, measure the actual size. You must buy one that suits your head perfectly so that it may not interrupt your journey. An oversized helmet may put off automatically when you take a hard break.
---
Typical Helmet Parts And Features
Outer Shell: Outer shell is the major part of a helmet. The Outer shell holds the full impact of any exterior force. Shell is the strongest part of a motorcycle helmet. The weight of a helmet depends on the ingredients of the shell. Polycarbonates, Nylon, carbon fiber, and fiberglass are the common ingredients of making an outer shell. Different brands paint over the shell to decorate it attractively. The color over the shell is also a major part of the helmet because the public choice depends on it.  
Face Shield/Visor:  Face shield or visor is the front portion of a helmet. It protects your eyes from dust and air pressure coming from the road. You may find two types of the visor in a helmet Sun visor and normal visor or glass. Using the visor you can see the scene clearly in the sun and the night as well.
Impact Absorbing Liner: It is the second layer of your helmet placed next to the outer shell. Impact liner is a hard foam that protects your scalp from an unwanted hit. The Impact-absorbing liner is responsible for your comfortability and protection from accidents.
Padded Comfort Layer: The padded comfort layer is the last layer of a helmet. It absorbs sweat from our scalp keeping our head warm and cool. This layer is responsible for our extreme feelings.
Chin Strap: Chinstrap is the closure system of a helmet that keeps the helmet in the right position when you ride. Our body vibrates and jerks while we ride our motorcycle. The chin strap holds the helmet in the same position smoothly if it moves suddenly.   
Cheek Pads: Cheek pads are also like the comfort liner situated on both sides of a helmet. Cheek pads protect our cheeks from the outer shell providing smooth touches whenever we move our head.     
Vents: Vents are the ventilation holes in the helmets. When you are riding a bike for a long time, your head may become extreme heat. Vents allow you to get calm feelings cooling your head meanwhile. You can see two times of vents Front and Rear vents. Front vents allow air to come in and rear vents allow exhausted air to pass out.
---
What Are Helmets Made Of?
Foam: Foam is an important component for padding and making the helmet comfortable. You will find foam attached to the shell and cheek side. Foam is responsible for the exhausted feeling. If the helmet brands use good quality foam, it will keep your head warm and dry. Otherwise, you may have a bitter experience.  
Nylon or Polypropylene: These components are the primary ingredients to make chin strap. You may not adjust the chin strap carefully although it is important to keep your helmet on your head when you are riding off-road.
Polycarbonates: Polycarbonates are the key ingredients to manufacture a helmet. The outer shell of a helmet is the main part. Polycarbonates are the potential element to make this outer shell. The weight of the helmet depends on the quality and volume of Polycarbonates used in the helmet.
Styrofoam and Koroyd: Styrofoam is a kind of quality foam good for the inner lining of a helmet. This foam is responsible for the comfort feeling of a helmet. It absorbs sweat from our scalp giving an antibacterial effect on our head. Koroyd is the combination of tiny tubes in the helmet that protects our head from extreme hit accidentally.
Bottom line
Now, your duty is to be familiar with the guideline first and choose the perfect one to make your riding pleasant and safe. Don't forget to read our new post – best motorcycle helmet under 200.