There are many differences between dirt bike boots and everyday boots. Firstly, they offer more protection to the feet and legs due to their sturdier construction and design, designed to withstand crashes, falls, and slides while riding. Dirt Bike boots are made from stronger materials. Their legs and feet are also reinforced in many areas to protect them. Various shapes, heights, and reinforcement levels are available to suit the needs of different riders.
What Are Dirt Bike Boots For?
Dirt bike boots serve a few purposes, including protecting you from obstacles, heat, and injuries. It is important to wear boots to protect your feet from bumps and hurdles. You can have a lot of fun riding a dirt bike, but there are lots of rocks, branches, and other objects flying around. Injuries to your feet and lower legs can be prevented by wearing boots.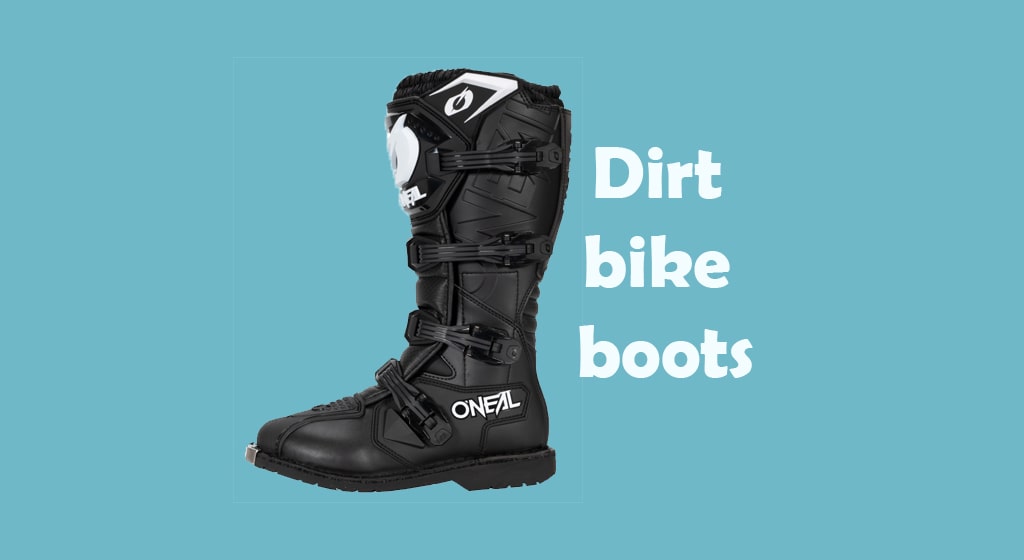 The heat from the exhaust is protected from your legs by boots. You can protect your legs from severe exhaust pipe burns by wearing boots with heat-resistant plastic heat shields on the sides. There is no doubt that burns are dangerous, and the best way to protect yourself from them is by wearing boots. The last benefit of boots is that they protect you from injury.
How Can I Choose the Best Dirt Bike Boots?
You need to keep a few things in mind in order to choose a good pair of Dirt bike Boots, they are as follows:
Safety-  Dirt bike boots are the most important protective gear after a helmet. Make sure the boot covers the top of the shin bone with thermoplastic TPU material and provides ample ankle support.
Comfortability – It is possible that you will not wear your boots if they are not comfortable, putting yourself at risk of injury. It is painful to wear boots that are too small, and wide boots can catch on things. Make sure the ankles of the boots are flexible and adequately fitted.
Longevity – The more durable the boots are, the longer they will last. You do not want to have to replace them every year. Ensure that the seams of the boots are double stitched at the very least.
How should you take care of your Dirt Bike Boots?
Once they receive their new boots, many people start treating them as if they were just another pair of shoes. When you bring them home, there are a few essential things to keep in mind for obvious reasons. The things that you must do are:
After each ride, properly dry your footwear. This will keep mold from forming on them and maintain them in better shape overall.
If you want to prevent corrosion on your boot buckles, spray the buckles with a lubricant spray after your ride. It is important to read the label of the spray to make sure that it's safe for leather because some are not.
Make sure the leather of the boots is well taken care of by treating it with a leather treatment. You can readily find leather treatment in most stores, which will keep your boots in good condition for as long as possible.
Always store your in a dry place to protect it from insects.
Things you must avoid are:
It is not a good idea to replace your soles yourself. You should leave replacement soles to the professionals, even though it might sound tempting.
When cleaning your boots, do not use harsh chemicals such as bleach. Alternatively, mix vinegar with baking soda and use a gentle soap. It is also recommended that you use a good quality Boot Cleaner if your boots are white.
Avoid giving your boots a pressure wash. You can reduce the life of your boots in half by pressure washing them. Additionally, it may result in dry stitching, which will eventually become brittle and lead to boot failure.
Best Dirt Bike boots to buy in 2022
Troy Lee Designs Tech 7 MX
The Price of these dirt bike boots is 500 dollars and is one the best dirt bike shoes that is currently available in the market. The boot has many features such as:
Troy Lee Designs Alpinestars TECH 7 MX Mens Dirt Bike...
FLEXIBLE AND ABRASION RESISTANT UPPER: Upper constructed from innovative...
EXTRA TOE PROTECTION AND COMFORT: innovative one-piece injected dual...
COUNTOURED CALF PROTECTION: calf protector plate is injected with high...
INTEGRATED SOLE FOR DURABILITY and GRIP: New dual compound sole is...
Perfect for any kind of riding: motocross, atv, motocycle or dirt bikes....
Advanced toe protection and comfort:
The Boot has a one-piece injected dual compound foot shell with integrated steel shank and coinjected hard toe protector. It features an abrasion-resistant shell with an ergonomically designed forefoot and lower toebox for easy shifting and an improved rear brake feel.
Durable and Gripper Integrated Sole
Featuring high performing rubber grip patterning and an enhanced feel, the dual compound sole is seamlessly integrated into the base structure for superior durability. Replaceable soles and footpeg inserts are available.
O'Neal Rider Pro Boots
The price of these boots starts from 200 dollars and then goes up depending on the size. The boot has many features such as:
Sale
O'Neal 0325-110 Men's New Logo Rider Boot (Black, Size...
Injection molded plastic plates protect against impacts
Metal shank insert Reinforces the shape of the boot and adds support. Fit...
Easy to operate, snap-lock adjustable four buckle closure system
Air mesh interior, generous heel support and cushioned Insole for extra...
Synthetic leather heat shield to prevent heat damage
The sole of the boots is reinforced with metal and nylon to provide added stability and protect against impact. Injection-molded plastic plates provide impact protection. Featuring a metal toe box and metal sole on the front, this boot protects both your toes and soles.
Riders will be comfortable, even on long rides, thanks to the reinforced heel, air mesh interior, and padded insole. Motocross boots are easy to put on and take off with four easily adjustable buckles. These boots are marketed by O'Neal as suitable for motocross, enduro, trail or off-road riding, and ATVs.
Fly Racing Maverik Boot
These Dirt Bike Boots are great considering the pricing is just 150 dollars. The Features that these boots offer are as follows:
Fly Racing Adult Maverik Boot (Black, 12)
BOOT SIZES ARE IN MEN'S. OFF-ROAD BOOT PROTECTION: Articulated rear ankle...
PROTECTIVE RIDING GEAR: These CE approved boots are equipped with a variety...
QUALITY CONSTRUCTION: These motocross boots feature an elastic gaiter,...
MODERN MOLDED SOLE: Featuring an Innovative one piece plastic injected...
RIDING GEAR DONE RIGHT: Inspired by racing, driven by adventure, and...
Riding gear that protects
Riders' feet will be protected and safe with these CE-approved boots, which feature inner and outer ankle protection and shin impact protection.
A 2D molded plastic shin and shift protector is included in these motocross boots. The gaiters are elastic, the buckles are adjustable, and the shins are protected with 3D molded plastic.
In addition to protecting from the heat of the engine and exhaust, the rubber heat shield provides excellent grip for better control. The rubber compound is used in the outsole, which provides traction and durability. With grooves added to the 3D shift panel to prevent premature wear, in addition to a premolded 3D shin, the shift panel offers a further measure of impact resistance.