Do you need a perfect 4 channel AMP? This review is for you.
Driving a motorcycle is one of the most amazing feelings in the world. You feel free and unlimited, but when you might think it can not get any better, there comes a great audio system that will make your ride way more enjoyable.
There are a couple of chances that might seem a less expensive option, for example, headphones or earbuds, but both of them are not worth it. They will restrain you from hearing what is happening on the road.
It is not only about listening to your favorite music, but better sound quality adds a dimension to your motorcycle. A further reason why purchasing a stereo amplifier is a significant idea is that it can create powerful sounds. They have to stop the bike and the road noises, which is not easy.
In this article, we are going to review the best 4 channel amp for Harley.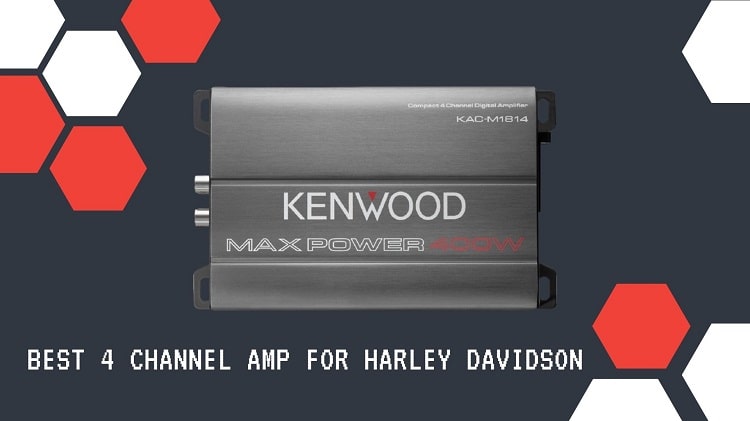 ---
---
Best 4 Channel Amp For Harley
As already mentioned, amps are a luxury. They are an additional part of the vehicle that makes your experience way more enjoyable, but even if you are buying something that is not fundamental, I am pretty sure you do not want to spend a lot of money on it. The Focal amplifier is very budget-friendly for its substantial advantages. 
The amp itself offers majestic sound, as it has both high pass and low pass filters. If you do not know low pass filters are, they make all frequencies above the specified wavelength muted. The high pass filter is the opposite of it, it makes frequencies below the specified repetition get muted. 
Watt number per channel at 4 ohms are 70 watts, which means they are pretty powerful. Plenty of people noticed that the amp gets hot on the 4 ohms, which makes using the amplifier a little difficult. In addition, for some people, the amp provides a high-pitched voice, which is almost unremovable.
Other than the technical side of the amplifier, there are a couple of things that need mentioning. For example, a great advantage that these amplifiers have is their weight. They are very light and small, which makes installation easier process. In conclusion, buy this amp for a clean, rich sound above 50-60 Hz.
Kenwood is one of the most popular brands, and most of the time, they justify their name. Unfortunately, The RMS wattage is low, as they offer 50×4 at 4 ohms and 75×4 at 2 ohms. On the other hand, the amp is bridgeable, which means it will control 150W at 4 ohms on two channels.
To talk more about the advantages of this product, let's talk about its protection. They offer conformal coated main PCB, which means they have extra protection against moisture. If you want to find the amp you can use for not only your motorcycle but also for your boat, Kenwood is your friend. 
The amp is easy to install, and it will give you the comfort you desire by its size and weight. One of the problems with the amp is that they have an exposed power connection, which might give you a little bit of a problem, especially if you decide to use it for the boat.
One of the most common problems while finding the right amp is to find the one that can handle overheating. Some of the problems referencing the Kenwood amp occur about this particular obstacle.
With all of the pros and cons, you might get a little confused about the choice. To be more specific, Kenwood amps do not have crucial problems that might make you reconsider buying the product.
If you want to find an amp that costs next to nothing, Audiopipe can help you. You can not say that they are one of the best amps on the market, as they might break down faster than other amps, but they 100% do their job. 
First of all, let's start talking about the advantages of the amplifier. Sometimes the minor pros can become the ones that will change your mind Audiopipe amps are very easy to install. They are small, and the speaker wire colors match the wire colors on the stereo harness.
Audiopipe amplifiers are rated at 770 Watts by one at 4 ohms 1300 watts by one at 2 ohms. 
Another great thing is that it provides a low pass filter, which is adjustable from 180 Hertz down to 40 Hertz. These amps can handle over 2100 Watts. 
Another great reason why you have to buy an Audiopipe amp is the fact that they are not going to get overheated easily.
On the other hand, they do not have extra protection to defend the amplifier from moisture.
In summary, at this price range, you might not be able to find the better amp that will have all of these advantages. Even with more budget, you might obtain the amp with more cons and disadvantages than an Audiopipe amplifier.
Stinger SPX700 is one of the best 4 channel amps. They are perfect for the motorcycle and even boats as they have moisture protecting technologies. 
One of the most important features of the amp is that it connects to Bluetooth, but this fact is not only suitable for listening to music. You can actually play navigation on the amp and be safe all ride long!
To talk about the power of the amplifier, we can say that this amplifier is pretty effective. As it is 4 channel amp, it means that it will do 175 watts times 4 at 2 ohms, or 125 watts times 4 at 4 ohms.
To make the amp work more efficiently you can turn on the high-pass filter and probably actively cross it over between 40 and 50 Hertz because most amps are not going to play that frequency well.
Amps come with remotes, and you can turn the volume up if you hit the remote. You also can quickly turn it down, which will help you carry on the conversation if someone decides to call you while you are on the road.
The best part of this amp is its size, it is almost as long as iPhone 6! You can only imagine how small the amp actually is.
The reason why Rockford Fosgate's amp is one of the most popular amps is a couple of facts, first one is that they are very small, almost literally the size of your hand.  
These amps will put out 50 watts RMS to each of the fronts and back speakers. You can also manage this amp in 2 channel mode with up to 200 watts RMS each.
On the other hand, the second reason why Rockford amp is one of the best is that they have a couple of mechanics that make using amplifiers easier.
Firstly, Amps use Boosted Rail amp technology, which applies high-speed systems to increase the amp's power voltage when needed. 
One of the other features that need to be mentioned is that it also features technology, allowing you to connect the amp into almost any system. 
As I already mentioned, the hardest feature to find is the one that will put up with overheating. Rockford amps have an ejected aluminum heat sink mixes for heat control.
If we talk more about the mechanics of amps, we need to talk a little more about Calibrated Level Eliminates Audible Noise. This is a setup system that ensures that the music will play as fresh and powerful as possible. When you are playing, for example, CD change the speaker until a red light on the amp goes out, then turn the amp up until a blue light comes on. 
---
What Do You Expect From 4 Channel Amp?
Before we start reviewing the actual amplifiers, let's talk a little guide to help you discover all of the right features in the speaker.
First, let's consider two measurements that get used for amplifier power ratings.
Peak Power
First is peak power which is less likely to get used by professionals. Peak Power is the power that the amplifier will produce in minimal time. The reason why a lot of people do not trust Peak Power is that the amplifier might produce the power it promised, but the sound is not going to be very satisfying. It will probably take a small amount of time before the amplifier will break and shut down.
Root Mean Square Power
RMS is the more reliable measurement. The RMS is how much continuous power an amplifier can produce on a daily basis without any damage. 
Before purchasing an amp take a look into Ohms. The ohm gets described as an electrical resistance between two ends of a conductor. For audio amplifiers, you will spot 3 ohms of resistance. To be more exact, 4, 8, and 16 ohms. If the impedance of the loudspeaker is high, that means the delivered power of the loudspeaker will be reduced, but on the other hand, if the impedance of the loudspeaker is low, then the delivered power will be high. High power does not mean a good thing, this can overload the speaker, which will damage the amplifier in the long run.
Other than power, to find the perfect amplifier you need to look for the one that will be small and light. You need the speakers to fit on the motorcycle easily. It is way better to look for the amplifier that will provide cooling down technologies. They will prevent shutting the amplifier down after playing for too long.
---
FAQs
Does a 4 channel amp make a difference?
If you do not have a small budget and can spend some money, then 4 channel amps are worth it. Considering which amp you will purchase, they might give you the same power of sound but will provide you with way cleaner sounds.
How many speakers can a 4 channel amp power?
Well, in general, the amplifiers can power one speaker per channel, which means that 4 channel amp will power 4 speakers. If you wire them right, they will be able to provide twice as much power out of the amp, which means they will control 8 speakers.
Who makes the best motorcycle amp?
It is not easy to say which exact brand makes the best motorcycle amp. All of them have different pros and cons, and all of the mentioned brands are immeasurable in their ways. Read the article to find the more about amps.
What's better 2 channel or 4 channel amp?
In general, it is a bit hard to say. It depends on how many speakers do you have installed. While A 2 channel amp is more practical to use, it will connect with fewer speakers than a 4 channel amp.
Conclusion
The audio system is a remarkable opportunity if you do not want to feel alone on the road. While you might think that your system is already okay and does not need any additional things you might be wrong. 4 channel amp will make the sounds way more decent and better to listen to.
Before obtaining the amp take a good look at what are you buying. To be more exact, find the amplifier that will be light and small. One of the hardest things is to install the amp, but the size of it will make this process easier.
It is also important to find the amp that will give you the exact power you will need. Frequently, you have to select an amp that can perform power comparable to twice the speaker's power rating.
The easiest way to find out what you need is to consider what you are wanting out of your motorcycle's audio system.
Hopefully, this article helped you find the amp of your dreams.