Do you want to improve your bike's sound and performance? You can achieve that with the new exhaust system, and we will help you find the best option.Upgrade your Harley-Davidson Milwaukee 8 with one of these 5 Best Exhaust systems. We've compiled a list of the top 5 exhausts for Milwaukee 8 engines, taking into account factors like price, performance, and sound. Whether you're looking for loud and proud pipes or a more subtle sound, we have the perfect exhaust for you.
Looking for the best exhaust for your Milwaukee 8 Harley-Davidson? We've got you covered. In this blog post, we'll discuss the 5 best exhausts for Milwaukee 8 engines, taking into account factors like price, performance, and sound. We'll also provide a buyer's guide to help you make the best decision for your needs.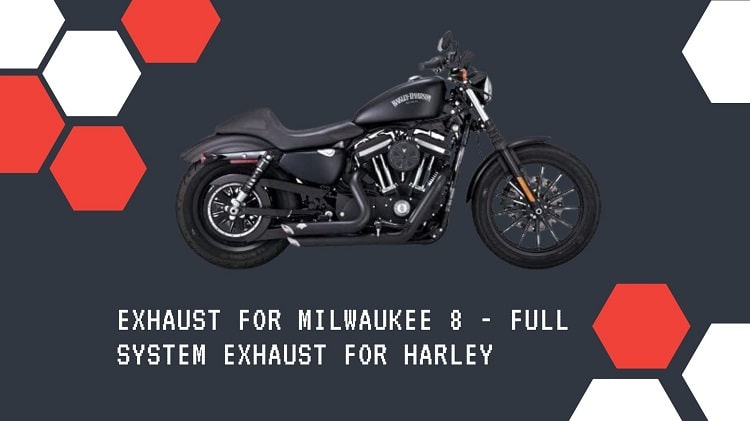 ---
The Best Exhaust For Milwaukee 8
Vance & Hines is one of the biggest and the most influential brands regarding exhausts. It is hard to start talking about the sound of the exhaust, you should actually listen to it, but I can assure you that sound is still very powerful even if you are ten feet away from the bike.
Vance and Hines offer different baffles different inserts to change the sound of the bites. The quiet baffles are very important as they have packing on to mute the sound a little bit, especially at highway speeds, so it does not get annoying after a long drive.
For the 2 into 2 Exhaust, it is light, and it is improving the feeling of the bike, without really feeling like it was a drastic change. It is not a 2 into 1, so it will not be the best performer, but 2 into 2 is great too! There is a small flow out that will occur with these than with the stock headers.
One of the disadvantages of this particular exhaust is the instructions! A lot of people have said that the instruction of the installation is very unclear, which makes an actual easy process harder than it should be. The Vance & Hines Big Radius Exhaust is a popular choice among Harley-Davidson riders for its impressive performance, aggressive sound, and stylish appearance. It features a 2-into-2 design with full-coverage heat shields and artistically scalloped end tips.
Additional Features:
Power Chamber Exhaust (PCX) Technology for increased torque
Available in Chrome or Matte Black finish
Optional quiet baffles for reduced noise levels
Features and Specifications:
| | |
| --- | --- |
| Feature | Specification |
| Exhaust Type | 2-into-2 |
| Material | Stainless steel |
| Finish | Chrome or Matte Black |
| Baffle Type | Standard or Quiet (optional) |
| Noise Level | Moderate to Loud |
| Horsepower Gain | 2-3 HP |
| Torque Gain | 3-5 lb-ft |
I am pretty sure that you want your bike to sound like a real Harley. There is nothing better than going down the street and realizing that people are watching you at that moment and not only after you pass that place. Any type of Vance & Hines exhaust will be able to give you that exact impact, especially this particular system exhaust. 
This system provides you with very powerful, loud noises, but as good as it gets, after hours of driving, those noises will give you a headache and probably annoy your neighbors. Vance & Hines exhaust system will provide you with just the right amount of sound. To give you the best performance, then make sure to get a fuel controller and a high-flow air cleaner as well. 
Installation is a simple process. To make sure you do not get freaked out, we have to warn you that little smoke might come from the cylinder flange the first time you fire it up but should go away in a minute. It is also important to check the exhaust collar bolts after a short ride, to be more sure that you are being safe in every single situation. 
In addition to the impressive sound and performance, the Vance & Hines Full System Exhaust offers a range of additional features that enhance your riding experience:
Additional Features: 
Improved performance: The system's design optimizes exhaust flow, leading to increased horsepower and torque.
Durable construction: Made from high-quality materials, the exhaust system is built to withstand the rigors of everyday riding.
Easy installation: The system comes with comprehensive instructions for hassle-free installation.
Sleek design: The exhaust enhances the aesthetics of your motorcycle, adding a touch of style and aggression.
Features and Specifications:
| | |
| --- | --- |
| Feature | Specification |
| Material | Stainless steel |
| Finish | Chrome or black |
| Sound level | Moderate to loud |
| Horsepower gain | Up to 5% |
| Torque gain | Up to 10% |
| Warranty | 2 years |
If you do not want to change the full exhaust, or you do not want to pay too much money, then Sharkroad will do the trick. It is always good to do a tune, but it is not always necessary, for example, this particular slip-on does not need it. Let us talk a little about the performance of the slip-on, you might notice a little bit of loss on the lower ends of the revs. To be more exact, first, second and third gear might have a little bit of loss of power.
You do not have to worry about it too much as it makes up for it towards the mid-range when you are all the way open. To prevent losing that low end, you can put an air cleaner on there or an intake and then put the tune on the bike. This whole process will cost less than the full exhaust and is easier to install. The installation process is a big problem most of the time, so easy installation is the selling point for Sharkroad.
We have not mentioned the actual sound of the slip-on. They deliver the right sound, as they are not very powerful, which will give you a headache, but are not so quiet that will make buying the slip-on a bad decision. Enhance your Harley-Davidson's performance and sound with SHARKROAD 3″ Slip-on Mufflers. These high-quality mufflers offer a cost-effective alternative to full exhaust systems, delivering a deep, throaty rumble without breaking the bank.
Additional Features: 
Easy installation
Enhanced performance and sound
Deep, throaty rumble
Affordable alternative to full exhaust systems
Durable construction
Features and Specifications:
| | |
| --- | --- |
| Feature | Specification |
| Material | Chrome or black powdercoat |
| Size | 3″ |
| Fitment | 2014-2022 Harley-Davidson Sportster Models with Stock Headers |
| Sound | Deep, throaty rumble |
If you want to spend a little amount of money, but you also want to find the thing that will give your bike the loud, manly sounds then this 4-inch slip one is the best choice. They cost less than the full exhaust system but give one of the most impactful results. 
One of the most important parts is their designs and how good they will good with the bike. They come in silver color, which means that will look very vibrant and good in combination with the motorbike. Like any other Sharkroad slip-on installation, it is very simple and takes almost no time. Sometimes you have to pay double, but the results are the same. The only difference is the name of the brand, which, of course, does not mean that they are better.  
Regarding the sound, the only thing we can do to make it more clear is to compare them with an already reviewed 3.0-inch slip-on. Logically, 4.0-inch ones are way louder than 3.0 inches, so you know which one to chose by your wantings. Normally, the bikes have the sound of 25-26 decibels, but the Sharkroad increases the sound by 20 decibels, which makes their sound in the range from 45 to 47 decibels.
With an extra volume of 20 decibels, the Sharkroad Chrome Slip Ons Muffler Exhaust increases the sound of your Harley-Davidson to a range of 45 to 47 decibels, giving it a loud, manly sound. The exhaust is available in a silver color that complements the bike's appearance and is simple to install.
Additional Features: 
Increases exhaust volume by 20 decibels
Available in silver color
Simple to install
Features and Specifications:
| | |
| --- | --- |
| Feature | Specification |
| Exhaust type | Slip-on |
| Material | Chrome |
| Diameter | 4 inches |
| Sound level | 45-47 decibels |
| Installation time | 15 minutes |
The slip-on is not something that will improve the bike's performance. Most of the time, it is something that can decrease performance. With this slip-on, we can guarantee that the bike's appearance will not get touched. Furthermore, when you are buying a slip-on, you do not want to buy the one that will not have a bad impact on the motorbike. In the long run, some exhaust can do some damage and void your warranty. This slip-on is assured to keep your bike safe in the long run.
They increase the loudness of the bike a couple of times which, as already mentioned, is crucial. Slip-on is very easy to install, but you might need to modify the exhaust clamps. One of the selling points of the slip-on is Aluminum tips that give the bike a very luxurious look and customized look.
The great thing is the size of the slip-on, it is very lightweight and small. The stock heat Shields fit right on them almost perfectly, which is very important. You can technically drive without a heat shield, but if you are going to drive around without a heat shield, your motorbike should be lightweight.
| | |
| --- | --- |
| Feature | Specification |
| Size | 3.0" |
| Material | Stainless steel |
| Finish | Black |
| Sound | Loud |
| Installation | Easy |
| Warranty | Void |
Harley New Post, Solo Seat For Street Glide
Guide To Buy Exhaust For Milwaukee 8
Before we start the review, let us take a little guide to help you find the loudest exhaust for Milwaukee 8.
Sound, If you are looking for just sound and a very mild performance increase, maybe potentially a different ornamental look, stage one is a good option.
Everybody has a little different idea of what they prefer in the sound of their exhaust system. If you want the bike to be a little louder and you are not looking for a huge performance increase, then you can do the slip-on mufflers. It is the cheapest if you want just the benefit of a different sounding and you don't want to spend a lot of extra money on additional tuners.
Performance, To take it a step further, what you can do is to go to the exhaust system, or you can switch out the header pipe and merge that with a muffler of your choice as well, but in that position, it is crucial to find the best head pipe for Milwaukee 8. If you decide to go to the exhaust system, you will need to put an additional tuner there.
Ecology, With the environment in the position that it already is, the key is to choose an eco-friendly exhaust system. With Milwaukee 8 there are catalytic converters, which is a device that decreases toxic gasoline from an inner flaming engine into less-toxic pollutants by catalyzing a redox reaction. Anytime you remove that equipment, you are now officially polluting the environment, which is illegal in some US states. The most strict state about these rules is California, where most influential manufacturers of mufflers have gone through the certification process. On the terrain motorbikes, you have to stick to mufflers on the soft tails.
The Davidson has Screamin Eagle mufflers for all the soft tails, and they have the catalytic converters in there for the appropriate models. A lot of people have been saying that Screamin Eagles do not get quite the exhaust note or the volume that most people are hoping for, but they have made some pretty big steps for development in the past couple of years.
Additional Features:
Sound Customization: Tailor your bike's sound with various options, from mild to louder profiles.
Performance Enhancement: Upgrade beyond the stage one option by replacing the header pipe and muffler for improved performance.
Eco-Friendly Consideration: Navigate through catalytic converters and adherence to environmental regulations, especially in strict states like California.
Manufacturer Options: Explore Screamin Eagle mufflers and their compliance with emission standards.
Features and Specifications:
| | |
| --- | --- |
| Feature | Specification |
| Sound Customization | Mild to loud sound profiles |
| Performance Enhancement | Header pipe and muffler upgrades |
| Eco-Friendly Options | Catalytic converters adherence, compliance with standards |
| Manufacturer Options | Screamin Eagle mufflers for soft tails |
FAQs
What is the best performance exhaust for Harley Davidson?
It all comes down to your preference and the exhaust tones. You got to listen to all of the exhausts to know which are louder or have a higher pitch. To be specific, there are some of the best systems: Reinhardt's, Cobra, Vance & Hines, and many more.
What is the best exhaust for a Harley Street Glide?
Harley Street Glides are lighter than Harley Road Glides, so some of the exhaust systems you think are the best for Road Glide might not work on Street Glide. For them, one of the best exhausts is Cobra True Dual Head Pipes 6250.
Do slip-on mufflers improve performance?
If you want to get the full benefit of the performance improvement, you need to change an exhaust system. If you are a person, who wants to go for the only sound, you can get away with just putting a muffler on your bike, but you are not going to get any performance increase. You are just going to get the sound, and but it will not operate to its optimum. It will not run poorly significantly, but you will not get any performance benefit at all.
How can I make my Harley exhaust louder?
When you are changing out your exhaust system, there are two things you can do. The first thing you can do is change out your muffler, keep the same stock header pipe on your motorbike and change out the slip-on muffler portion of the exhaust system. Generally, if you find the best header for Milwaukee 8, you will get anywhere from about a thirty to fifty percent sound increase.
Summary
Exhaust is not something you might think is an important part of the motorbike, but in reality, you are wrong. Some things make the bike a great one, for example, if you are a real lover of bikes, I am pretty sure that you love the sound of the bike more than anything! It does not matter how your bike sounds, if it has the wrong exhaust, it all goes to waste.
The average motorcycle is primarily ten times more polluting per mile than a passenger car, light truck, or SUV, so the right exhaust is crucial for the environment. The sound is not the only thing that is important regarding the bike. They will also increase the performance of the motorbike. Hopefully, it is the article that helped you find the best exhaust system for Milwaukee 8. Related Harley Davidson, 4 Channel Amp For Harley Davidson