Bluetooth speaker loud enough for motorcycle is becoming popular because headphone and air pod are risky and distract you from paying attention while riding. If you want to overcome the monotony of regular driving and thinking about enjoyable riding, then why are you not go for the best Bluetooth motorcycle handlebar speakers?
Using a headphone can be your style while driving. But that can be the reason for getting a ticket from traffic police in many states where setting a Bluetooth speaker on the bike handlebar can make your bike gorgeous. It allows you to rock on with your favorite playlist and pay attention at the same time while riding.
You find an adequate number of Bluetooth speakers in the market, and finding your preferred one is tricky. If you want a mid-range budget Bluetooth speaker within $100, then you find an amplifier, built-in microphone, and wireless connectivity. Build quality is durable at the range, but no remote-control system is available within $100.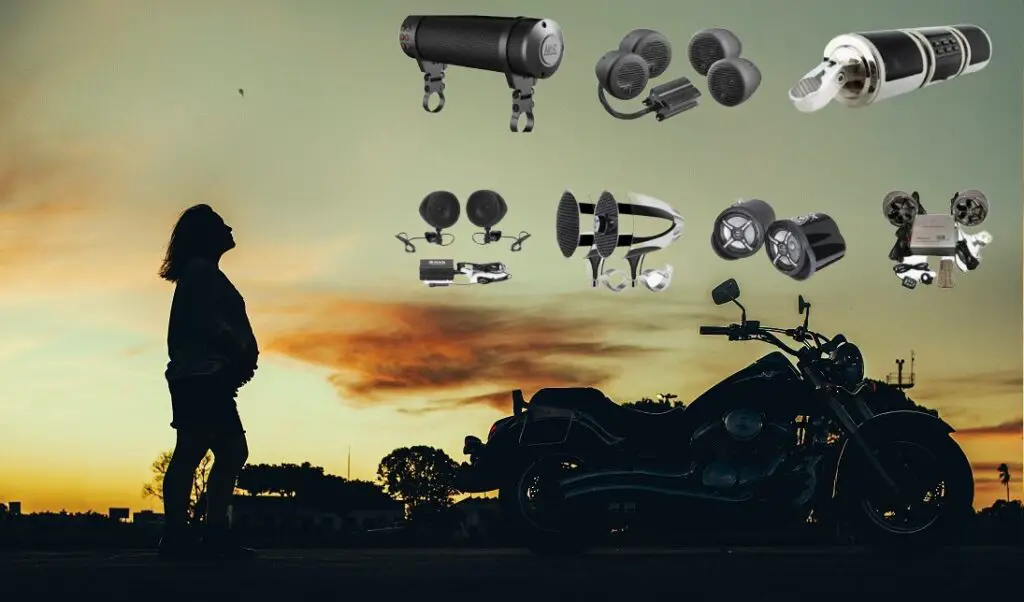 Premium Choice
Best Value
BOSS Audio Bluetooth Speaker
GoHawk Waterproof Speakers
Dimensions
Speaker: 8.25 x 2.5 in. Handlebar Clamp Size: 7/8 to 1 1/4 in.
Bluetooth Audio Streaming
Premium Choice
BOSS Audio Bluetooth Speaker
Bluetooth Audio Streaming
Best Value
GoHawk Waterproof Speakers
Dimensions
Speaker: 8.25 x 2.5 in. Handlebar Clamp Size: 7/8 to 1 1/4 in.
Bluetooth Audio Streaming
---
5 Best Bluetooth Speaker Loud Enough For Motorcycle
1. Boss Audio Bluetooth Speakers
Boss is one of the best motorcycle speakers in our market for some unique features like amplification power, Aux input, remote control facilities, and an audio streaming system. Though MC470B is not fully waterproof, the other elements can fulfill your demand at a reasonable price.
The speaker is made with a mixture of metal and plastic, which can ensure a durable feel. You find a glossy finish chrome color outer surface that is scratchproof. The waterproof feature is not certified, and so you need to be careful while raining.
Boss is offering 2Pairs, Class D amplification, Aux input compatibility, and 80Hz-15KHz frequency range, which can make your riding enjoyable with a sharp and high-quality sound.
It is enabled with an audio streaming service that can help you to use Spotify or pandora. You get a wireless remote-control system with a customized sound controlling facility that can offer you the best service.
The sound system can use on your 12V motorcycle, ATVs, or scooters. You find 3.9×3.1×1.5-inch 12V DC operational power that added some extra facilities.
It is one of the best motorcycle speaker systems, no doubt. Bikers are very happy with the loud and sharp sound even you are in 80. A back seated person also can hear adequately.
But till some bikers are talking about a heating issue and they also concern about battery life. But overall, Boss should be the top choice at the price range according to the bikers' choice.
Pros:
Price is reasonable.
Remote control enabled.
Customized sound controlling system.
2Pairs Class D amplification.
Easy to use and mount.
Three years warranty.
Cons:
2. JBL Cruise Bluetooth Speakers
JBL Cruise is a handlebar-mounted Bluetooth speaker kit that you can use in the road without a weather forecast because of the water-resistance feature. Amplification quality, build material, sound quality, and design of Cruise can be your top choice for any motorcycle though Cruise is expensive according to the features.
JBL Cruise speaker is made with a durable, high-quality plastic and metal mixture. You find here a Matt finish outer surface with an IPX5 waterproof rating for riding any weather.
The sound system is offering a 65mm transducer and a build-in amplifier with 20watts output power for each speaker, which can make a concert feel. JBL enabled with 3.0 Bluetooth connectivity, and a 2-1/2-inch speaker that can offer you a frequency range of 90-15000 Hz.
It is offering 2.5-inch handlebar-mounted speaker pair with an integrated 3V & 1A USB port that can help to charge your device.
You are going to get a 10 x 60.9 x 16 cm and 0.77 lbs weighted sound system with an auto power-off feature that can provide you a great experience. The cruise is available in black and chrome colors. Cruise's large button can help you even with wearing gloves.
JBL Cruise is top-rated, but still, some bikers are talking about the sound that should be louder. They said that the speaker is suitable for rural areas but not for the city.
Harley Davidson users cannot hear the music because of the inbuild bike sound. Other features, like the installation process, build quality, and user experience is rated five out of five.
Pros:
1 Year official warranty.
IPX5 waterproof rating.
Mount is mirror integrated.
User-friendly and easy installation.
Premium sound quality.
Cons:
Price is very high.
Need a spare mounting device for some motorbikes.
3. BOSS Bluetooth Speakers
Boss MC420B is a mid-range budget most popular Bluetooth speaker for 12V motorbikes and ATVs. 1 Pair MC420B can offer you a clear sound quality, premium design with top-notched features in our market.
It is built with marine-grade solid material, which is chrome-colored and glossy-finished. Boss speakers are waterproof but not certified.
The speaker also is offering a 1 Pair speaker, 80Hz-15KHz frequency range, Aux input compatibility, and a 600-watt Class D amplifier that can provide you with a sharp sound.
You are going to get A2DP audio streaming service for Spotify or Pandora, a Remote-control system, and customized sound control remote, which makes the speaker unique.
It is compatible with 12V motorcycles, ATV's and Scooters. You find a mounting bracket added in the packet to adjust your handlebar.
Bikers' opinion, It is the top Bluetooth motorcycle speaker at a reasonable price. Bikers are happy with the sound quality, installation process, and they also said, "Sound quality is decent."
For the price, I cannot complain." But some bikers complain about the starting irritating sound, and that cannot turn off. Overall, all the bikers have a favorable opinion for MC420B.
Pros:
User friendly and easy to install.
A2DP audio streaming service enabled.
600-watt Class D amplifier for a loud sound.
Remote control enabled.
Custom sound control system.
Three years warranty.
Cons:
4. GoHawk Bluetooth Speakers
GoHawk TJ4-Q is such a type of Bluetooth speaker that can offer you a sharp & crystal-clear sound, premium design, and user-friendly experience with a four-channel, 1000watt amplifier, 5.0 Bluetooth compatibility, and wired control facility.
It built with ABS material, which is glossy finish chrome, and black colored outer body. Your speaker is going to be waterproof, but not for the amplifier.
GoHawk is two pairs and 5.0 Bluetooth compatible. You find here a 20Hz to 20KHz frequency range with 3.5 AUX that can provide you a crystal, sharp, and loud sound.
You can use your mp3 player, Smartphone, iPhone, or your memory card, Pen drive, via USB port. You also get a memory card slot as an input device, which is 10DCV to 16DCV.
It is offering FM Radio enabled with antenna, more than 15m wireless transmission range, wired remote control, and LCD, which can provide you with the best service.
Bikers always talk about the sound of a Bluetooth speaker, and TJ4-Q is good enough for the music. But Bikers complaint about the wire shortage to install the remote, and some motorists found their speaker stop working after some days of use. But that's not for all.
Overall, with its design, build quality, and other essential features, bikers are satisfied.
Pros:
Waterproof with an IP56 rating for speaker.
CRA male connector facility.
User friendly.
Full access to the wired remote-control system.
Compatible with ATV, Motorcycle, and Scoter.
Cons:
Amplifier is not waterproof.
Not suitable for all bikes.
Installation process is complicated.
5. Boss Audio Bluetooth Speakers
Boss Audio System is a Bluetooth audio speaker that is offering you a wired volume control system with a clear base and sharp sound that can maintain by a 600-watt amplifier, two-channel 3-inch chrome speaker, and Auxiliary input for your 12V motorbike or ATV.
Boss Audion system is Chrome-colored, high-quality material built, which is glossy designed and waterproof to be protected from bad weather.
Bluetooth compatible, 600watt class A/B amplifier with a 3inch pair speaker can boost up your mind while riding.
It is compatible with Auxiliary input, and you can use your Smartphone, iPhone, SD card, Pen drive with SD card slot, and USB port.
Compact design Boss can set on your bracket fit 0.75inch to 1.25inch handlebar. 12V motorcycles, ATVs, Scooters, and UTV's are okay with Boss speaker.
Boss MC400 is good enough according to the sound quality, design, and build quality. Some bikers complain about the base and heating issues of the amplifier. A group of bikers disagreed with buying because of being made in China.
Unlike the complaints, most of the bikers provide an excellent opinion on the Bluetooth connectivity, easy installation, and user-friendly facility.
Pros:
Easy to use and installation process.
600watt class A/B amplifier.
Low budget speaker.
Compatible with the Aux input system.
3 years warranty.
Cons:
Not 100% waterproof.
Amplifier heating occurs.
6. BOSS Motorcycle Bluetooth Speakers
Boss Motorcycle Bluetooth is a Bluetooth speaker for your 12V motorcycle to offer you a loud and good base sound from your Spotify, Pandora, or your favorite playlist.
Durable, matt black finish, high-quality plastic metal mixture-built body can protect you from any condition while riding. The waterproof feature allows you to use underwater or snowfall.
Boss enabled with two 2 channel, 600watt class A/B amplifier, updated Bluetooth technology can make your sound loud and crystal-clear ranging from 80Hz to 15KHz.
Boss MCBK520B is offering you Aux input, and A2DP streaming technology allows you to play your song from Spotify or Pandora. You can also use your Smartphone, iPhone, SD card up to 32GB as an input device.
You can set the speaker in your 12V bike handlebar by adjustable brackets with Keychain wireless remote and default FM radio.
According to bikers' opinion, MCBK520B is preferable for your bike if you are concern about a compact build with all the necessary features that should have on a Bluetooth speaker. For some bikers, the radio is not working even they cannot receive their local stations.
A group of motorists complains about all features are not working correctly, as they mentioned in the spec book. Rest to the functions like sound, design, and the remote-control system is top rated.
Pros:
Aux input technology.
A2DP streaming option.
Easy installation.
User-friendly.
Remote control facility.
Reasonable price.
3 years warranty.
Cons:
Waterproof feature is not certified.
Amplifier heating issues occur.
7. Pyle Motorcycle Bluetooth Speakers
Pyle Motorcycle Bluetooth Speaker is now available in our market with ultra-modern sound and Bluetooth technology, a user-friendly sound controlling system, and durable build quality.
Dual-channel, durable marine-grade, chrome color material made the main body with adjustable bracket type handlebar mounting and water resistance facility to survive in rough and rainy weather.
Pyle PLMCA is a 20Hz-20KHz frequency range and a powerful amplifier that can produce sharp and loud sound with a good base.
Here, you can use your Smartphone, Pen drive, SD card, or any mp3 device in a 12V DC power cable to play your favorite playlist with an output power of 100watt. You also can use Aux input and connector for stereo input.
Pyle PLMCA10 has built-in FM radio, LED display with clock, two options for volume and system control- One from the amplifier and another from the remote control.
When we talk to the bikers, most of them mentioned PLMCA10 as JUNK. They also complain about the heating issue within minutes, worst waterproofing system, and no base in sound.
A group of bikers shared their bad experience during installation. But still, some bikers recommend Pyle for loud sound, smooth user experience, and tiny size.
Pros:
RCA connector to connect the amplifier.
Price is reasonable.
User friendly
1 Year warranty.
Durable marine grade metal body.
Cons:
Waterproof rating is not certified.
Mounting is difficult for some bikes.
8. Aluminum Bluetooth Motorcycle Speakers
No products found.
Aluminum Bullet is a premium design motorcycle Bluetooth load speaker that looks like a bullet shape and 360 degrees moveable with remote control facility.
Aluminum-made; glossy outer surface designed by Shark Week to provide you a durable speaker for your motorcycle with a gorgeous look. The speaker can use in all weather conditions with a waterproof design.
A2DP Bluetooth technology, Stereo sound system, 3-inch dual-channel speaker can provide you a loud sound that can create a concert feel while riding.
Bikers' opinion about Aluminum bullet?
Aluminum bullet bikers' have a different opinion. Some motorist raises some complain that the Bluetooth get disconnected and reconnect again and again. The sound is okay when the speed is within 50km but cannot hear according to the speed increasing.
The battery draining issue occurred with most of the bikers even when that switched off. But still, some bikers are marked as top-rated speakers for the gorgeous design, moderate sound, user-friendly, and easy installation process.
Pros:
GPS technology-enabled.
5mm Aux jack added.
Voice Coil facility.
Premium bullet-shaped design.
Easy installation.
User-friendly.
A2DP Bluetooth Technology.
Cons:
No rating for waterproof.
Sound is not loud enough.
9. BOSS Bluetooth Motorcycle Audio Systems
Boss MC720B is a new collection of Boss family with some latest features like Voice Coil system. Wireless and wired remote control systems, powerful amplifiers, and high-quality sound are offering you premium service.
A high-quality metal frame, chrome color, durably built, waterproof Boss MC720B can offer you a long-lasting and dependable speaker for any weather conditions.
Boss MC720B can produce loud and clear sound for powerful class D 1000watt amplifier, dual-channel 4inch speaker, and latest 3-ohm Voice Coil system from your preferred playlist, Spotify, Pandora wirelessly for the A2DP streaming service facility.
Input system, 3.5mm Aux input system of MC720B is offering versatile input access.
Wireless and wired remote control facility, added adjustable bracket mounting accessories to fulfill all your demands.
When we talk about the Boss MC720B series, most of the bikers gave us positive reviews. They are satisfied with its sound quality, base, user experience, build quality, and design and recommend others to buy.
Some bikers complain about amplifier heating issues, and for some bikes, MC720B is not fitted properly. But these are not a major issue.
Pros:
Premium design.
Durable for all environments.
Mounting is straightforward.
User friendly
High quality sound with Class D Amplifier.
3 Years warranty.
Cons:
No waterproof rating.
Amplifier heating problem.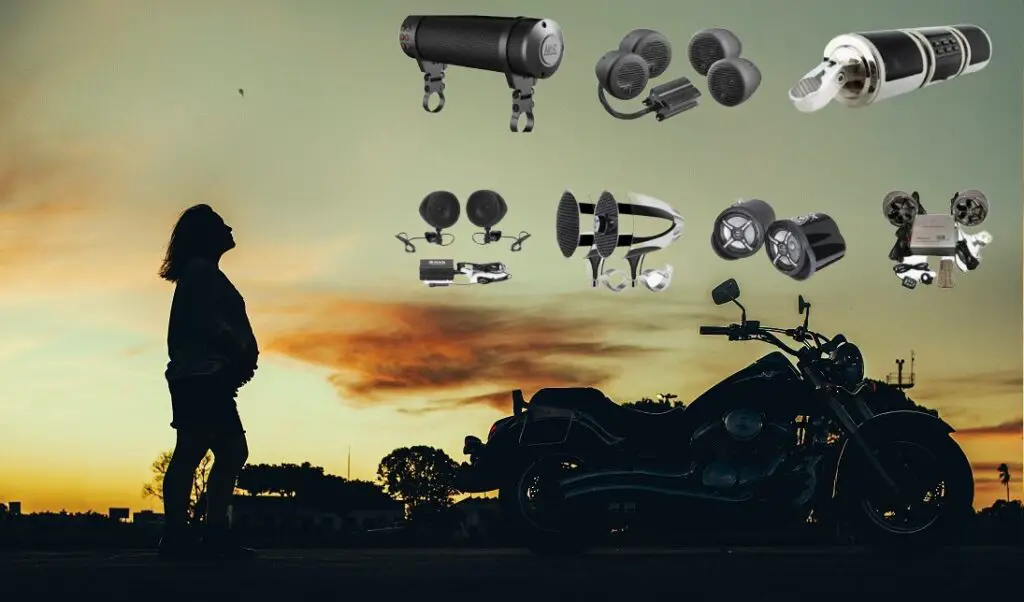 Why Buy The Bluetooth Motorcycle Speakers?
Safety: Using a headphone or earbud is very risky while riding even you use the best noise-canceling headphones. In some states, using these gadgets is forbidden. So, the only way to entertain you while riding with safety is the best motorcycle speakers. Bluetooth speakers can boost up your mind and can make your tedious journey enjoyable that can help you to focus on the road and increase your safety.
Hearing Loss: Sound can harm at 85db, but a speaker can produce that when your volume is more than 75%. If you use the motorcycle headset, that may cause hearing loss. But using Bluetooth speakers is safe for hearing and can be your partner while you are alone on a long trip.
Better Performance: The best speaker's sound is loud and crystal clear with a good base. You find a GPS function that can tell you where you are in a sudden time, remote control facility to make user friendly—powerful class D amplifier to produce stable output from an Aux input.
Loud Bluetooth Speakers for Motorcycles: Detailed Guide
Speaker type, Motorcycle speakers are of two types, including Handlebar speakers, and Helmet speakers. Handle speakers are user-friendly with easy installation, and those are also Bluetooth-enabled. Look for an adjustable bracket with range to fit on your handle correctly.
Be careful about the amplifier setup system to be fit on your bike. Most of the speakers are two and four-channel variants. So, check that fits your motorcycle or not. Last, of all, look for a wired and wireless remote-control system to make your control easy.
Compatibility, Compatibility is essential before ordering. When you go buying online, you may not concern about your chosen speaker is compatible with your bike or not. But when you get your product, you got that not fitting your bike correctly and get disappointed. So, check and double-check the features, setup measurement, amplifier position, sound controlling system, and your bike battery is compatible or not.
Wattage, More wattage can produce a louder sound. But the fact is depending on you. If you like heavy music, then go for more wattage—Low wattage for low sound. Low wattage is suitable for quiet areas and substantial wattage for noisy areas.
Input sources, Considering your speaker input sources is very important for your versatile use. Find out that your preferred speaker input sources are compatible with your device. In most cases speakers' input sources are smartphones, SD cards, USB drives, iPhone, iPod, and in some advances, you may find streaming services to play from Spotify or Pandora. Don't forget to check Aux input availability.
Weather resistance, Speakers without weather resistance features are the worst for you. So, check your preferred speaker is waterproof so that that can protect your speaker from any weather conditions like rain, snowfall, or a splash of water while riding. Try to choose one with a waterproof rating.
---
FAQs
Can You Put Speakers on a Motorcycle?
Answer: Yes, you can put a speaker on your motorcycle according to speaker type. Handlebar speakers can be put on your bike handle, and Helmet speakers can fit your helmet.
How to Use a Bluetooth Headset in a Helmet?
Answer: Cut the foam where your ear place inside your helmet to place your headset. You need to set a microphone and amplifier inside your helmet. Lastly, pair your device with your headset and play your favorite music.
Are Motorcycle Speakers Waterproof?
Answer: Yes, motorcycle speakers are waterproof. In some cases, speakers are waterproof, but the amplifier is not.
Motorcycle Speakers and Amplifiers: What's their Relation?
Answer: Speakers and Amplifiers do the same job of producing sound. But amplifiers make the speaker sound, and the speaker makes a sound that we can hear.
Can Motorcycle Speakers Shut Down on their Own?
Answer: Most of the speakers don't have an auto-shutdown system. So, you need to be careful. Otherwise, that can drain your battery life. But some brand is offering an auto-shutdown system. You can find out that.
Common Problems with a Motorcycle Audio System – How to Fix?
Answer: From all the common problems with a motorcycle Bluetooth system, most of the bikers face pairing issues for the very first time.
Possible fixing your pairing issues:
Check your device's Bluetooth turned on and find a Bluetooth icon in the notification bar. Maintain 10 to 100 meters distance and enable the discoverable mode when you pair your new device. Still not pairing? Okay, go for a hard reset. That will clear your cache data, and your problem gets fixed.
Final Verdict
Picking the best Bluetooth loudspeaker for a bike is varying from person to person according to their own choice. But today our top pick is Boss MC470B for the outstanding audio quality, dominant amplification power, both wired and wireless remote-control facility, Bluetooth technology, two pair channel, Streaming facility, and Aux input. MC470B can fulfill all basic needs and offer you some advanced features in any weather condition with waterproof technology.
Still, you can choose any other option from the above according to your preference because we find out the best list that can fulfill your basic, standard, and premium needs and can be budget-friendly.
Related: Motorcycle Helmet Speakers