Let's explore Harley Davidson Seats for Tall Riders! Are you a tall rider and struggle to find the right seat? We are here to help you. Short rides on your bike are a nurturing feeling, they are easy and will not make you exhausted most of the time, but even short rides will be a pain if you have the wrong driver seat. Tailor your Harley Davidson riding experience to your height with the best seats designed for tall riders. Explore a range of options, from solo seats to touring seats, each crafted to provide superior comfort and support for those with longer legs. Enhance your riding posture, alleviate fatigue, and enjoy the open road in style with the perfect Harley Davidson seat for your stature.
Embrace the freedom of the open road on your Harley Davidson without compromising comfort. Discover the top-rated seats specifically designed for tall riders, ensuring a pleasurable and ergonomic riding experience. These seats offer extended legroom, supportive cushioning, and tailored designs that cater to your unique height requirements. Whether you're cruising through city streets or embarking on long-distance adventures, find the optimal Harley Davidson seat that elevates your riding comfort and style.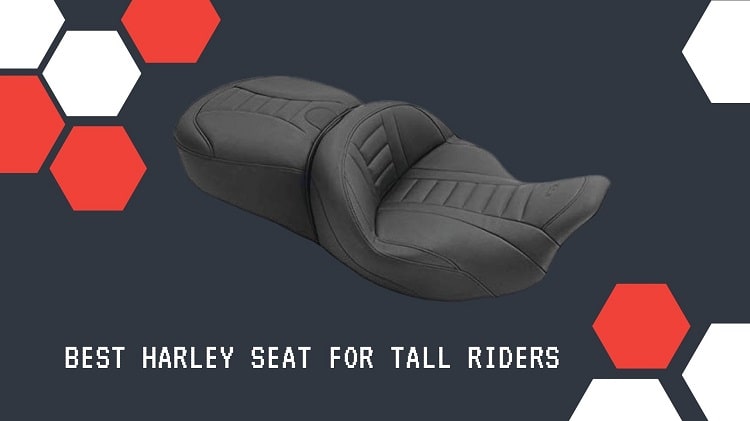 ---
Best Harley Seat for Tall Riders
Mustang Motorcycle Seats 79006 Super Touring Deluxe...
Front seat sets the rider back 1. 75" compared to the stock seat; Angles...
Rear seat provides support across its full width and keeps the passenger...
Styled after state-of-the-art automotive interior designs; Convenient front...
Includes (1) Super Touring Deluxe one-piece seat in black; Suggested for...
Fits Harley-Davidson Road King '08-'21, Street Glide '08-'21, Street Glide...
Let us start this review with one of the most remarkable seats on the market. Mustang is known for its amazing seats, with its comfort and material. Therefore this particular model is worth looking into. Mustang 79006 is approximately 15 inches long and is 1.5 inches in height. Both of these measurements are very nice in the comfort area, it is not too thick to make you feel like you are too high on the bike, but it also has thick padding, which will make your long rides 100% more comfortable. Regarding the width, if you are under 6 feet, it might be a little too wide for you, which will lead to it spreading your hips apart in between your legs, so it changes the dynamic of the motorcycle.
Secondly, we need to talk about the designs of the seat. The seat has straps that are purely there for the looks, but it does not add comfort to it. The base of the seat gets made from fiberglass, which makes the construction of it firm. It delivers durability, like we already mentioned, an important part of the chair. Keep in mind that you have to buy a connector from Harley to install this seat, which makes the whole process of installation a little hard.
Additional Features: 
1.75″ rider setback for a more comfortable riding position
Exquisite stitching detail for a stylish look
Available in black, American Beauty Red, Gunmetal Grey, or Sky Blue thread
Driver backrest sold separately
Features and Specifications:
| | |
| --- | --- |
| Feature | Specification |
| Seat Width (Front) | 19 inches |
| Seat Width (Rear) | 14 inches |
| Seat Height | 15 inches |
| Compatibility | Harley-Davidson FL Touring 2008-'21 |
| Installation | Requires Harley-Davidson connector (not included) |
Mustang Motorcycle Seats 79807 Wide Tripper Forward...
Moves the driver 1. 5" forward to reduce the reach to the handlebars and...
Driver seat supports riders at the correct seating angle; Extra width in...
Designed with diamond stitching and a built-in driver backrest; Fully...
Includes (1) Wide Tripper Forward solo seat with driver backrest and...
Fits Harley-Davidson Switchback '12-'16, Super Glide '06-'10, Street Bob...
Harley the wide tripper is a great product for people who are looking for a seat that is in the middle of the road and do not want to be sitting right in your seat rails. One of the great things about this seat is that it comes in both a one-piece and a two-piece version. If you prefer a more traditional look and you want a two-piece seat, but if you do not want to have that extra room covered up by a seat, or you need a little bit of packing room, you can get that with the solo.
This seat has a diamond stitch, and it is a pleasant look. It gets stitched into marine-grade vinyl, which is a remarkable material as it is UV and weather-resistant. An installation process like every seat on the market is not very difficult.
Under this thing, the seat gets made from fiberglass. It is solid, firm, and even though it does not sound comfortable for a chair, in reality, it is very convenient. There it is also aluminum rivets holding the cover down. It is a great way to hold the hood down, as it keeps the lid super secure and is not really likely to corrosion.
Additional Features: 
Available in one-piece and two-piece versions
Diamond stitch design for a stylish look
Marine-grade vinyl for durability and weather resistance
Fiberglass base for a solid and firm seat
Aluminum rivets for secure cover attachment
Features and Specifications:
| | |
| --- | --- |
| Feature | Specification |
| Style | Diamond stitch |
| Material | Marine-grade vinyl |
| Base | Fiberglass |
| Attachment | Aluminum rivets |
| Available in | One-piece and two-piece versions |
Mustang Wide Touring Seat - Studded / Front Width 16in....
Deeply contoured front bucket; passenger seat angles forward to support the...
Premium-quality expanded vinyl cover
Built-in steel support wings in the passenger seat
One-piece or two-piece designs
Studded style features studded skirt with conchos and a braid that extends...
If you do not have a low budget and you are not the person who will pay money to feel comfortable, then you can not find a better product. Mustang 79556 is an extremely comfortable seat, which will put you in the right position. To be more exact, it will sit you high on the bike, and it will let you have arms straight and fully extended. Your legs will have enough space and do not feel like you are sitting on the container.
As regarding the designs, it is the black, smooth-looking chair that will fit your bike like a puzzle. It is very important to know that your passenger will fit comfortably too, so the passenger pad is also way bigger than stock. In conclusion, as far as pushing you back, giving you the maximum comfort and as far as how the backrest fits on the motorbike, we can guarantee that seat is the best one on the market.
The Mustang Touring Motorcycle Seat is a premium option for riders seeking exceptional comfort and support during long-distance rides. Its ergonomic design and high-quality materials make it a standout choice among motorcycle seats.
Additional Features: 
Enhanced passenger comfort: The wider passenger pad ensures ample space for your companion, keeping them comfortable throughout the journey.
Durability and quality construction: Mustang seats are renowned for their robust construction and lasting performance, ensuring years of reliable use.
Sleek and stylish design: The Mustang Touring Motorcycle Seat complements the aesthetics of your bike, adding a touch of elegance to your riding experience.
Features and Specifications:
| | |
| --- | --- |
| Feature | Specification |
| Material | High-quality expanded vinyl |
| Color | Black |
| Rider position | Sits rider high on the bike, allowing for straight and fully extended arms |
| Passenger comfort | Wider passenger pad for enhanced comfort |
| Fit | Designed to fit your bike like a puzzle |
| Backrest | Provides maximum support and comfort |
Sale
Mustang Motorcycle Seats 76145 Fastback One-Piece Seat...
Offers super clean, custom style with a high-rising wall that offers...
Cut low to place the rider slightly lower and further back compared to...
Tapered passenger section provides a streamlined look
Includes (1) Fastback one-piece seat in black; suggested for installation...
Fits Harley-Davidson Sportster '04-'21 Models with 2.1 & 3.3 Gal. Tank
Let us start the review with the design. The top and the bottom are double-stitched which makes the seat durable not only that, but for a more firm design, the chair has a fiberglass and rubber mounts double-stitched vinyl. 
First of all, let's start with fiberglass, which is strong and will not bend easily. You can also spot the aluminum rivets, which will help with any water and will prevent rust. All of these features are very important for high-quality seats. 
Another great hallmark is the backrest, which is fully adjustable with a screw on the back. You can tighten yourself, and it will move forward or backward depending on the shape of your spine. This backrest slides right on with the knob right here on the side to give you full support for your lower back. 
The Mustang 76691 is going to get you a little bit more of a lift while sitting on the bike to make sure it hits maximum comforts. The Mustang Café Solo Motorcycle Seat is a classic and stylish option for those seeking a comfortable and durable ride.
Additional Features: 
Fully adjustable backrest for lower back support
Durable fiberglass and rubber mounts
Double-stitched vinyl for enhanced longevity
Aluminum rivets for rust prevention
Elevated seat position for maximum comfort
Features and Specifications:
| | |
| --- | --- |
| Feature | Specification |
| Seat Type | Solo |
| Material | Fiberglass, Rubber, Vinyl |
| Stitching | Double-Stitched |
| Backrest | Fully Adjustable |
| Mounting | Bolt-On |
| Color | Black |
| Compatibility | Harley-Davidson Sportster 2004-2019 |
Saddlemen Step-Up LS 806-04-172
The seat combines a Gel-Core interior and Ultra-Foam that creates a foam...
Ultra-Foam unique molding process creates an element-resistant self...
The Co-molded Gel-Core is the largest comfort advancement in motorcycle...
Lattice stitch (LS) retro styling infuses the old school spirit with a...
Designed and made in the USA.
If you want to feel like you are into the bike instead of on top of it, this seat is for you. The best part about the chair is when you are coming out of the corners and ripping hard on the gas, it will keep you in the seat right where you want to be. It is exceptional for high-performance traveling, and it helps keep pushing you forward into the bars.
The seat has a typical diner-style, which blends with the bike quickly. There is one problem with the seat- under part of it. The chair got a rigid underpan which helps with the comfort of the. However, all this leather gets locked down by these rivets, which creates a safe seal for the leather and makes it look good on top. The problem is that rivets might give your motorbike a little dent after using it for a long time.
In the long run, there might be a better seat on the market than the Saddlemen Step-Up. Saddlemen Step-Up LS 806-04-172 is a motorcycle seat that is designed to provide riders with a comfortable and supportive ride. The seat is made with high-quality materials and features a unique design that helps to keep riders in place and in control of their bikes.
Additional Features: 
The seat is made with a combination of Gel-Core and Ultra-Foam that provides a comfortable and supportive ride.
The seat is designed to keep riders in place and in control of their bikes.
The seat is made in the USA.
Features and Specifications:
| | |
| --- | --- |
| Feature | Specification |
| Material | Gel-Core and Ultra-Foam |
| Design | Unique design that helps to keep riders in place and in control of their bikes |
| Made in | USA |
Harley Seat For Tall Riders: Overview And Guide
Before we review the products, let us take a little guide that will help you to look for the right features in the seat.
First of all, let's start talking about length. It is a little complicated to say what length is the perfect one. It mostly depends on your height and your needs but speaking commonly, the ideal distance might be considered approximately 18 or 19 inches long.
Secondly, one of the most important parts is the width of the seat. Like we already mentioned, if you buy a product that is too high, it will feel as uncomfortable and awkward as the short seat. Not only that, the high chair will not give you that authentic and cool look you might want.
Thirdly, let us talk about what is happening under the seat. You want the underneath of the chair to be delicate, and have a thick pad of cushion. Most of the chairs have plastic underneath, which makes sitting on them very uncomfortable, even for a short period of time. Try to find a seat that will have rubber bumpers. It will isolate you from some road bumps.
Even if you find a great seat that is long and soft, there comes another problem. You want the chair to have high durability as it will distract a lot of things. First of all, you will sit on it every day and even if you are not the sun that shines on it. All of these things give the chair a worn-down look.
Some seats come with a backrest, which is an amazing opportunity if your back gets tired effortlessly. If you want to find a chair with a backrest, then make sure to look for one that comes on and off easily, as with the backrest on passengers, can not be sat.
And last but not least the design of the seat. You probably want the chair to go with your bike's authentic and cool look. Try to look for the chair that will get made from material that will not only look good but feel good.
There is also one more thing you need to do before buying a set. You want to have your bars done before the seat because the stock bars might not be perfect once you put those 12 or 14-inch seats on there. It just puts the pressure in a different spot on your posterior, and it can put you too far away from those tall bars and make your ride uncomfortable for long periods. Let us start the review of the best Harley touring seat for tall riders.
FAQs
Does a 4 channel amp make a difference?
Well, if we decide to talk about the amps, you have to know that a high budget is not a necessity. If you do not have a small budget and can spend some money, then 4 channel amps are worth it. Considering which amp you will purchase, they might give you the same power of sound but will provide you with way cleaner sounds.
How many speakers can a 4 channel amp power?
In general, the amplifiers can power one speaker per channel, which means that 4 channel amp will power 4 speakers. But there is another choice, if you wire them right, they will be able to provide twice as much power out of the amp, which means they will control 8 speakers.
Who makes the best motorcycle amp?
It is not easy to say which exact brand makes the best motorcycle amp. All of them have different pros and cons. It mostly depends on what you are looking for. Well, all of the mentioned brands are immeasurable in their ways. Read the article to find the more about amps.
What's better 2 channel or 4 channel amp?
In general, it is a bit hard to say. It depends on a lot of things, for example, how many speakers do you have installed. While A 2 channel amp is more practical and effective to use, it will connect with fewer speakers than a 4 channel amp.
Conclusion
In conclusion, there are many things you can do to your bike that will make your motorbike more authentic and also very comfortable for long rides. One of them is the seat, but finding the right chair is very hard if you are a tall person. Most of the seats are short, and the more you sit on it, the ride gets more and more awkward.
As we already mentioned, there are a couple of features that make a regular seat the best street glide seat for tall riders. For starters, an important part is a material, what they get made of, and how durable they are. Not only about durability, but the material is essential for comfort. If the seat has a cushion underneath, you practically are not only sitting on the plastic, and your ride gets 100% more enjoyable. It is also crucial to look for designs to go on with your bike. Hopefully, this review helped you find the best Harley seat for tall riders.