From motorcycle helmets to celebrity paparazzi picks, Oakley performance sunglasses have outdone the sports world and have become a high fashion staple. You need at least one pair of Oakley in your closet.
If you get a new pair of glasses and are not comfortable right away, they will not get comfortable. They are not leather, so they are not going to stretch. Especially sports frames, they generally are far less adjustable than regular everyday eyeglasses. They are much harder to heat up and bend.
As a result, you need to research your choices before purchasing. To help you find the best Oakley sunglasses for motorcycle riding, we will take a little buying guide and review all of the best options out there.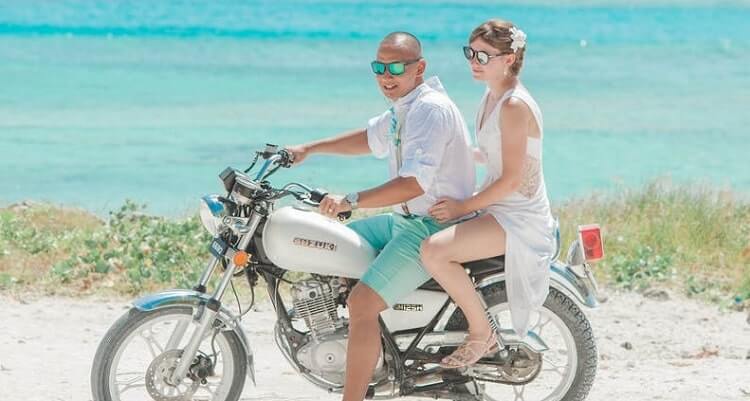 ---
Best Oakley Sunglasses For Motorcycle Riding
1. Oakley Men's Gascan
This sunglass has been in the Oakley lineup for ages, and it is not going anywhere anytime soon. The gascan has a frame width of 128, which means men's large or women's extra-large. The entire frame gets made of o matter, it is a proprietary nylon material that makes these sunglasses both lightweight and durable. 
The frame design gives you coverage and protection against the sun, also it increases frame maintenance to keep these sunglasses optically aligned throughout the day. The gascan comes in a variety of colors and holds a range of prescriptions. These Oakley prescription glasses are with Oakley prism lens technology.
2. Oakley Men's Siphon
Siphon sunglasses got inspired by the carbon prime. It tones things down without skipping a beat.
The siphon is a sports frame width of 126 millimeters which means a men's medium or a women's large. 
With complete o matter frame construction, this is an immensely lightweight and durable sunglass. 
The unobtanium earsocks increase frame retention and grips even better the more you sweat. A high wrap styling makes the siphon perfect for everyday use, especially if you crave extra coverage. 
The siphon comes in multiple colors and holds a range of prescriptions, including progressives, you can even get it with Oakley's authentic prism lenses.
3. Oakley Men's Turbine Rotor
The rotor got inspired by the turbine, but the turbine on its own got inspired by the even popular Hijinx, which is now discontinued.
If you are looking to modernize some of your collection, this is a great way to go. 
Oakley got a three-point fit system that means the temples go straight back, and it is comfortable. What helps them stay in a place, of course, is the unobtanium. They use the rubber on the inside of the glasses. The more you sweat, the stickier unobtainium gets.
Another cool feature is an interchangeable icon, which can get popped out from the back.
4. Oakley Men's Sutro
These are the best glasses for cyclists as they are good wind resistance. You can also use them while running or even working out. 
These have an immense frame, with nice big silicone nose pads, so it is very comfortable, especially because they are so big they act like goggles. The width of the frame is 140 millimeters, which is men's large.
You get the unobtanium sport nose pad which is new for a cylindrical lens, you also get a lot of coverage and a wide periphery field of view.
These are the best working sports sunglasses as they are the best-looking sports eyeglasses and you are not giving up anything for them. You will not only depend on looks but on performance too. 
5. Oakley Men's Turbine Rotor
The Oakley turbine rotor is polarized and is definitely one of the best-looking glasses on the market. Because of the great features and design, they are pretty expensive.
They fit well, as they are rounded, and like every other Oakley sunglasses have unobtainium earsocks and nose bombs, so it does not slip with sweat.
It is coming off the edges and at the nose bridge, so it fits a wider face. 
Another unique thing is their design for other sunglasses, they cut off in the center, and this one has got the whole unibrow. So make sure this design is something you are looking for. 
To make your sunglasses more fun, you could pop out these little Oakley symbols and put them in different colors.
6. Oakley Men's Wire Metal
Seeing wire eyewear might scream uncomfortable for you, and you might back down without much exploring. But actually, the Oakley square wire sunglasses get made from ultra-lightweight high modulus C-5 alloy in metal frame material. 
These glasses make contact only at the nose bridge and at the temples, which uses unobtainium components to increase grip with sweat.
It also has more additional features, for example, it comes with optimized peripheral vision, side protection, and UV protection night lens material that filters out 100 percent of all UVA UVB UVC and harmful blue light.
It needs to get said that sunglasses also comes to the compatible stem shape for use with Oakley's Bluetooth module.
7. Oakley Men's Turbine
Oakley turbine sunglasses is money well spent, they look very cool as they are smooth, are sporty and have got nice curves. Not only that, but they come in a range of great colors. 
These glasses are for men and have smooth wraparound frames and temple pieces made from impact-resistant plastic. 
Not only do the temple pieces have a fashionable streamlined shape, but they also are coated with unobtainium, a material that will hold its grip when you get sweaty.
In addition to all of the great qualities, the plastic lenses are shatterproof, scratch-resistant, and polarized. They have the upper hand over regular lenses as they reduce glare off. It gives an excellent visual quality and color contrast while protecting your eyes from the sun's harmful UV rays.
8. Oakley Men's Flak Jacket Xlj
Oakley Men's Jacket XLJ was designed for professional athletes and has become one of the most popular sports frames as they have unique and beautiful shapes and forms.
These sunglasses get material that is extremely lightweight and durable, it features the sleek design of an Oakley product with hydrophobic lenses that prevent rain and sweat from building up to it also repels skin oils. 
The hinges lock into place so that these glasses are not going to fall off easily. 
The lens is easy to keep clean when you sweat, the interchangeable lens is simple to change so that you can use it for various sports and light conditions, as there are a variety of lens tints in all Oakley lenses.
Oakley Motorcycle Sunglasses: Buying Guide
There are a lot of features that make sunglasses the best Oakley safety glasses.
Firstly, one of the most important traits is a high contrast lens color. You do not want lenses that are too dark, gray, and super mirrored. What happens is you can not see where you are going. It is much better if the lenses are too light than too dark. Oakley has these prism lenses that create a lot of contrast.
One of the things you need to make sure is what the sunglasses get made from, you must make sure it is not glass. If you get into an accident glass sunglasses can cause way more problems than any other one.
Another thing to talk about is polarized lenses. It is an excellent feature as they filter out reflective glare and block out the horizontal wavelength. It helps eliminate reflective glare, for example, if you are driving with the car in the sun lights hitting, you have a chrome bumper in front of you, and that glare ball is coming at you polarized lens is the only thing that helps eliminate that reflective glare.
However, given the situation, that we are trying to find the best sunglasses for motorcycle riding, we need to say that it is not as good as for cars. For most sunglass manufacturers like Oakley, the mountain bike-specific lenses are rarely polarized. Or they are doing a slight polarization, so it is not fully polarized and helps cut out a little bit of glare but does not give you the depth perception issues.
There are other cool features like transitions or photochromatic. For example, the one that changes colors depending on the condition. If it is a sunny day, it will get darker for you. Therefore it will never get so dark to let it become dangerous.
After reviewing all of the features, now you know what to look for to find the Oakley motorcycle riding glasses.
Conclusion
In conclusion, finding the right Oakley z87 safety glasses is an essential and really hard process, they will help protect your eyes from the dust or the rocks that will get spit while going super fast on your bike. It is like armor and gives you excellent coverage. Hopefully, this review helped you find the best Oakley sunglasses for motorcycle riding.