Are you in need of 7 led motorcycle headlight? We will help you.
If your motorcycle has a stock halogen headlight in it, you know this thing will not provide you with the light you will need on nights. Since they do not have a proper cooling system, they put out more heat than they do light, those lights will not satisfy you, so the only solution you have to this problem is to change it out for the motorcycle led headlight kit.
Many motorcycles out there still run halogen headlights, and the best part about led headlights is they are universal. If you have a five and three-quarter-inch headlight bucket or a seven-inch headlight bucket with an h4 plug, these are going to plug right into it.
In conclusion, 7 inches led motorcycle headlight assembly is a pretty simple process.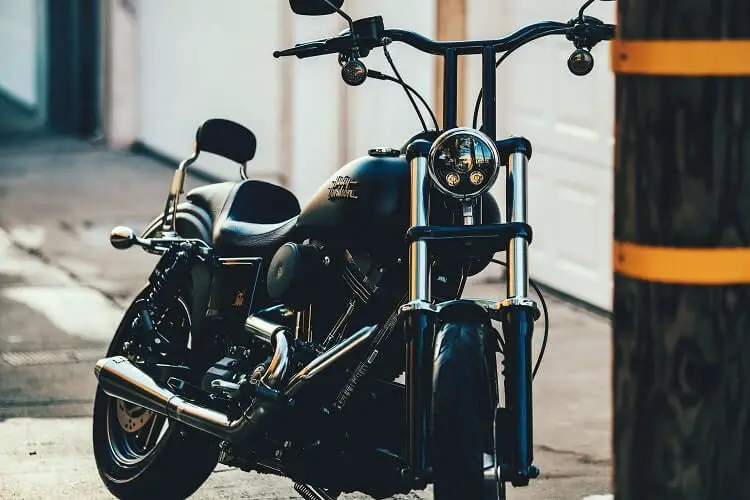 ---
Best 7 Inches Led Motorcycle Headlight
If you want to get rid of your stock turn signals and upgrade the light output significantly, you can try Sktyants headlights. The package contains an amber left/right turn signal and a one-piece 7-inch housing bucket.
The install of them overall is a pretty simple process. If you are good with wiring, you will have no trouble with the headlight. The turn signals are very straightforward and reasonable for the price.
On the other hand, many complained that the durability of this headlight is not excellent, and after approximately 3-4 months, it starts to disfunction. If you want to avoid these problems, you can always buy just the adapters.
Again, first, let us start the review with what comes in the package: LED Headlight, LED Fog Lights, headlight ring, wire harness, connectors, and wire adapters. You will get things that you might not even need, and use them for other products only for 100 dollars!
The lightning from the headlight is sharp from a distance. Not only that, but the headlight is water and dustproof, which makes it safe to use even in extreme conditions.
When you buy a product that is so inexpensive, you have to expect it to be a little low in quality. Several have criticized that headlights last for a couple of months before it starts to have problems.
If you want to buy the cheapest product that will do its job for a couple of months Zmoon, is for you. Despite the fact, it is not the best headlight out there, it is still better than stock lights. 
The package comes with the 7-inch headlight, H4-H13 adapter, and instruction manual, which is not much compared to what other brands offer.
The high beam offers white lights, but the daytime rings do not look good, especially when they are unenlightened, and there is light shining on them. You can make it a little better by putting the chrome trim ring back on.
This led headlight kit contains 7 inch round LED headlights and H4 / H13 adapter.
To start with, it is worth saying that the headlight is remarkably bright and, it allows you to see further ahead of you. It gives you perfect sharp light both on the top and bottom part of the road. 
Another great thing about this headlight is that it looks marvelous even when it is off! 
Of course, like every other headlight, this one is not perfect either, the clarity in fog is very poor, but you can change that situation by getting additional fog pods.
The package comes with V shape motorcycle headlight, two brackets, and extension wires for DRL function. 
If you decide to go with a MOVOTOR headlight, it gets advised to put a piece of rubber around your fork tubes to hold it into place better. It will give you more grip and less likely to move around. 
The other one would be to put a washer, as it does not come with one.
All and all, it is an excellent headlight that gets made of good quality, and most importantly, it is waterproof and resistant to the harsh environment.
One of the most amazing and the brightest motorcycle headlight on the market gets made by Haitzu. First, let us start with the packaging, which contains 7 inches led headlight, chrome fog lights, an adapter ring, and a wire adapter. 
They provide a high output of light which will help you drive at night, and they are not too bright to the point where they distract other drivers. 
It is also from one of the most rear budget headlights that not only promise you durability but also give you high quality, long-lasting product.
One of the most unusual things about PXRART headlights is their beautiful and elegant design.
It has got a diamond design and produces a red and white DRL function, which gives your bike an individual looking.
The package comes with a headlight, rackets, and yellow extend wire. The reason why the package does not contain much additional product is that headlight has an easy installation process, where you can change the entire headlight construction.
One suggestion is to put a piece of rubber around the fork tubes, as it loosens up very simply.
---
How To Buy: 7 Inches Led Motorcycle Headlight
To help you find the best led motorcycle headlight, first, you should know what to look for in both front and tail end headlights.
Let us start rear end of a motorcycle. Three different color lights need to get released from this structure: Tail light, the turn signals out to the back, and the white light that needs to be displayed, which is something a lot of people fail to remember. You need to direct white light onto the license plate in most jurisdictions to be legal.
To talk about the frond headlights, we need to say that the most modern headlights are halogen and designed elegantly. Most of the time, we have got a low beam and a high beam in separate housings, and there is some good reason why you should choose modern headlights instead of the old sealed beam design.
The first is style and design. For example, if you look at the sealed beam headlights, they typically only offer a few different ideas. Therefore, having a separate housing with a capsule that slid into the back allowed the designers to make things looking a little different.
The other thing separate housings helped to design, is putting the reflectors best for each particular job, in the same accommodations.
Now that you know what choices you have and what is better, we can start the motorcycle led headlight comparison and help you find the best option out there.
Read Related, Harley Davidson Seats Reviews.
---
FAQs
What is the best LED headlight for the motorcycle?
It is hard to say which from all of the reviewed products can get considered the best, as it is a very personal and unique thing. Yet, if we analyze every feature and review, DOT 7 inch LED Headlight 4.5 can get acknowledged as the best led motorcycle headlight.
What is the best LED headlight brand?
There are numerous types of motorcycle headlights. It does not matter which brand you choose because they all work differently. However, one of the most popular brands is Beamtech and AUXITO.
How do I make my motorcycle headlights brighter?
If you do not want to pay a lot of money, you can start with cleaning your headlight with a special kit. Nevertheless, if you are not scared to spend money, the best choice is to upgrade your headlight bulbs to LED.
What brand has the brightest headlights?
All reviewed brands produce almost the same kind of light, approximately 6000K, so it is impossible to say which has the brightest led headlights for motorcycles. On the other hand, the only brand that presents different lights is Zmoon, which is hardly any darker than others.
Which is brighter: 6000k or 8000k?
Most of the time, you get two choices 6000k, or 8000k, and how odd it might appear 8000k produces a little more radiant light than 6000k.
Final Verdict
To sum up, there are numerous reasons why you might want to change your whole headlight. Upgrading your bike's headlights before they break down will improve your skill to see any objects on the road, such as street signs.
Over half of car accidents happen at nighttime. Most of the time, bright headlights are not the reason for it, but if you are conscious of the potential hazards, it could stop later accidents.
Hopefully, in this review, we helped you find the brightest led headlights for motorcycles.